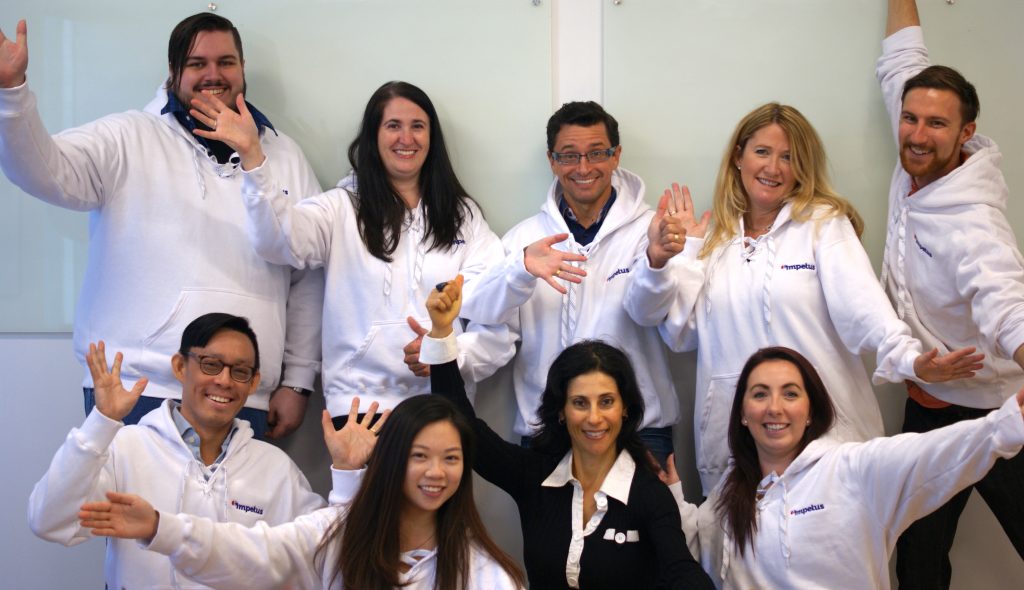 Job Posting: Business Development Manager (June 2018)
Impetus Digital is looking for someone special to join our Business Development Team!
You would be an integral member of the team that owns the responsibility of bringing a buyer-centric approach to each and every client. Our clients have carefully selected Impetus, from ALL the potential agencies out there, to help them strategically plan and implement their authentic advisory boards, consultancy initiatives and working groups. Impetus is changing the paradigm of how pharmaceutical companies think about advisory boards and shifting them from single, "one-off" meetings to augmented and ongoing engagement throughout the year by leveraging our technology. So, this role is kind of a big deal to us and them!
Why Us?
Be a part of something

authentic

and

entrepreneurial

!  A growing company, with a team of high-energy, brilliant people who are passionate about their work and colleagues.

Everything you do will make a difference and will contribute to the company's bottom line.

We are literally changing how our clients interact with their key customers AND helping to bring progressive change in healthcare.

Exciting, fast-paced and dynamic environment.

Work from home AND meet directly with clients at their offices. We know you don't need to be at our office to be productive during the work day.

Competitive salary.
Here's the Background, Job Details, and How to Apply:
Background
Based in Toronto, Impetus Digital started in 2008. Janice, who had worked in a variety of sales and marketing roles within the pharmaceutical industry for nearly 20 years envisioned a platform where pharmaceutical companies could collaborate with their customers. Natalie, who also had over 18 years within the pharmaceutical industry, joined Janice in 2011. Together, they built a digital solution for engaging with and gathering insights from advisors and key opinion leaders. They have been unstoppable ever since.
Impetus collaborates with Marketing, Market Access, Regulatory, Reimbursement and Medical teams within the top pharmaceutical companies—names you will recognize.  Our clients have repeatedly trusted Impetus' expertise in creating strategic, ongoing engagement with their key customers.
Our "Golden Circle":
Why:

We are the catalyst for, and believe in,

authentic partnerships

that will facilitate progressive change in healthcare.

How:

We enable our clients to

strategically, efficiently and conveniently

engage with their advisors, so that they get

timely insights

to their most important questions.

What:

Impetus provides strategic, managed online and in-person solutions for advisory boards, consultancy initiatives and working groups for healthcare clients.
Job Details
Specific Responsibilities:
Secure new business with Canadian healthcare companies. Ultimately, the Business Development Manager is responsible for generating 50% of revenues.

Tracking and reporting across specific metrics / Key Performance Indicators for business development activities.

Manage client contact process and new business lead generation for Canadian market.

Represent Impetus at industry events, client visits, and capability presentations.

Ability to strategize, conceptualize and develop recommendations and solutions that bring value to our customers and differentiate Impetus; where necessary, leverage appropriate internal partners to validate.

Develop Campaigns of Interactions® and proposals within Impetus pricing model, and effectively communicate to potential clients.

Ongoing assessment of landscape for business development related opportunities and challenges; Bring forward ways to improve/elevate Impetus' services and value.

Collaborate with Account Managers in transitioning projects to implementation.

Open communication with internal team members.

Timely responsiveness to customer queries and concerns.
How to Apply
Since we are looking for someone special, it is going to require more than just a standard cover letter and resume to get our attention.  And if you are that someone special, then what we are looking for below should be something that you are excited to share with us.
The bare necessities (a.k.a. minimum qualifications):
5+ years of experience within the healthcare industry

OR

5+ years of sales experience AND ability to gain industry knowledge quickly.

University degree in Business, Management or Science.

Entrepreneurial – motivated to, and integral in, growing a small company while not getting bogged down by bureaucracy, red tape and multiple levels of management.

Exceptional communication and listening skills; presentation expertise.

Ability to think creatively and strategically about customer, market and business issues; articulate these internally and externally.

Proven track record of networking and building new business relationships.

Demonstrated knowledge of client brands and the Innovative Medicines Canada Code of Ethical Practices.

Strong analytical, business and financial acumen.

Understanding of decision-making science.

Adept at problem solving, organizational and interpersonal skills.

Self-directed and ability to be productive without direct supervision.

Ability to work both individually and in a team environment.

Thrive in a very fast-paced environment.

Can navigate through ambiguity and proactively develop processes when required.

Proficient in G Suite, MS Office tools, and a keen ability to quickly learn new software applications (e.g. JIRA, Confluence, Trello).

Bilingualism (English and French) would be an asset.
How we will know that you are someone special?
If you have gotten this far and are still interested in what Impetus is offering, and believe that you are our ideal Business Development Manager, here is what to do next.
NO PHONE CALLS PLEASE! ?
Please send a PDF (maximum of 8 pages) to [email protected], with subject "Business Development Manager", containing the following:
Your experience and skills (a.k.a. a resume)

Sales – Share a recent example of how you successfully got someone to agree to something. What did you say/do and what was the result?

Passion – Share what you are personally passionate about, and why.

WOW! – Share a recent example of how you "wowed" someone (e.g. a client), and what was the indicator that they had been "wowed".

Alignment with Impetus' Core Values:
Empowerment – What can you tell us that demonstrates how you are someone who is empowered?

Everyone is an Entrepreneur – Share something that exemplifies your entrepreneurial spirit (and why it failed or succeeded).

All hands on deck – What demonstrates that you are a person who will roll up their sleeves and help when something just needs to get done?

Think like a Customer – Share a project(s) in which you impacted the outcome because you leveraged the mindset of your customer.

Quick but don't hurry – What does this mean to you and how have you demonstrated this in your most recent role?

Small details are HUGE – What does this mean to you and how have you demonstrated this in your most recent role?

Realize full potential – Share how you are working to realize your full potential OR how you are helping someone else to do the same.

Be authentic, be yourself – Share who you really are: Your why, your purpose, what gets you going every day and what drags you down.
This role requires someone who can think on their feet, is a capable storyteller and assessor of needs, so we aren't going to tell you how, or in what order, you need to share your story with us.