The Impetus Solution
An efficient and cost effective way to get the most from your advisory boards and working groups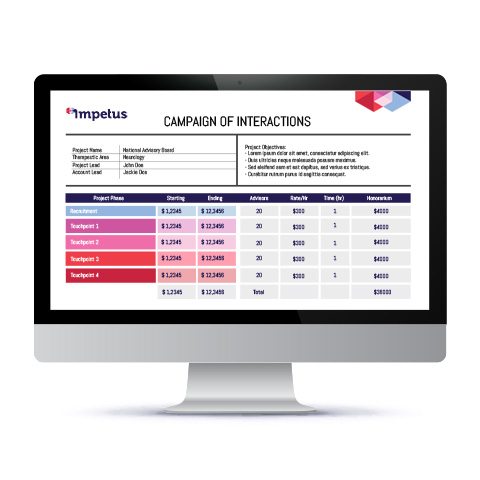 Campaign of Interactions™ (COI) Process
A Campaign of Interactions™ is a project map for your advisory board for the year. It will be comprised of when the customer advisor contact points will occur during the year and what the general concepts or content will be for each of your customer online contact points.
To help create this, Impetus will set up a consultation meeting and will help you think through when pivotal internal presentations will be taking place and when key brand or competitor brand data or messages will be released.
Intrinsic to the plan are budgets including any relevant customer honoraria so you can get a comprehensive view on your advisory board plan on one worksheet.
Your advisory board Campaign of Interactions™ will become our project blueprint for the year. We will use this plan to develop the content/copy for each of the online touchpoint assignments that will get disseminated to your
customers through the Insite Platform™.
Impetus Insite Platform™
Impetus builds customizable client portals using our proprietary InSite Platform™.
Portals come with a client's own brand, logo and colour palette as well as a unique SSL encrypted URL/ domain name.
This is a turnkey solution as Impetus provides all setup, configuration and portal and assignment management. Each company portal is customized to house the online touchpoint assignments planned in the Campaign of Interactions™.
Company portals use discrete user authentication via email address to prevent unauthorized access. Our platform is hosted in a secure data center with top level security.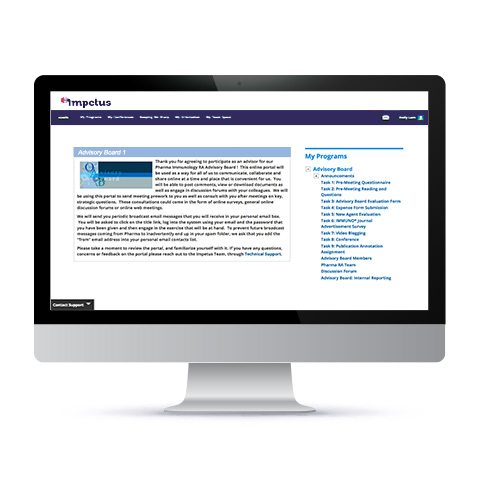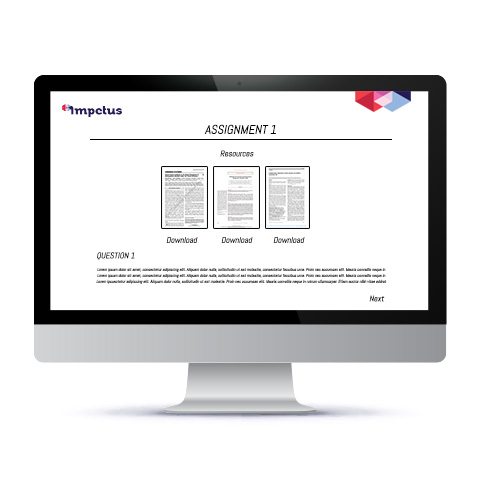 Project Management
Each online touchpoint assignment outlined in the Campaign of Interactions™ is developed by Impetus after a discussion with the company project lead about their key objectives and questions for the assignment.
Impetus will develop a copy deck for each online touchpoint detailing the content for the HTML email and the assignment.
Upon approval, Impetus will program each assignment into a company's private portal. Upon layout approval, Impetus will launch the assignment to the company's advisors.
While the asynchronous assignment is live, Impetus will send customized email reminders until the assignment deadline is reached.
On-Demand Reporting
While each online touchpoint assignment from the original Campaign of Interactions™ is live, company project leads can log into their private
Impetus InSite Platform™ and view, on-demand, their advisory board's Activity Tracker.
An Activity Tracker will detail out which company advisor's have completed each online touchpoint assignment. If applicable, Activity Trackers can
be used to distribute honoraria after each assignment.
In addition, at the completion of each online touchpoint assignment, company leads are provided with a transcript summary report with
all advisor comments collated as well as all relevant analysis charts and graphs.
Finally, private document areas are provided to allow company leads to upload and download relevant files in any format. Company leads can
also seamlessly edit and manage their document versions in this private space.