At Impetus Digital, we pride ourselves on becoming our client's strategic partners. Being able to really listen, understand, provoke, intelligently ask questions, and challenge our pharmaceutical customers to be their greatest vision of themselves, their brand, their franchise, and their company. There is nothing more comforting than to know your strategic vendor has your back and will execute your online advisory board projects with precision, a meticulous eye for detail, and a strategic view for opportunities.

Coupled with that, we provide our comprehensively managed online solution through our proprietary Impetus InSite Platform, through which we strategically create assignment content, launch assignments, customize advisor reminders, provide on-demand activity tracking, and provide strategic touchpoint summary reporting. We are a full service, soup to nuts, agency. Dependable and hard at work so you can focus on the other things that you need to do to move your brand.

At Impetus, we provide our comprehensive managed online solution for customer advisory boards and working groups with super diligent, hyper efficient speed; accuracy; and a customer-centric approach that is unsurpassed in the industry.

We provide a best in class, authentic, enduring customer advisory board platform. We go beyond the single, one-off consultancy meeting and help map out a Longitudinal Expert Engagement Plan™ with your advisors using a series of continuous touchpoints throughout the year.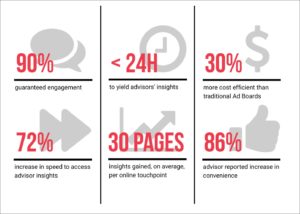 At Impetus Digital, we can guarantee over 90% completion rates of the various touchpoints by your key advisors, rapid access to key insights, increased quantity and quality of insights versus live consultancy meetings, as well as increased cost savings.
Impetus employs a team of diligent Account Managers and an entire technical team in house, whose core focus is customer advisory boards and working groups–this is all we do! Over the past 7 years, we have engaged over 40,000 advisors and delivered over 20,000 pages of client insights!