Best-in-class Online Collaboration Tools
Our comprehensive platform, the Impetus InSite Platform®, comprises a variety of cutting-edge asynchronous collaboration tools that allow participants to easily and effectively communicate and collaborate, at the place and time that suit them best, without the need to travel or take time off work. The Impetus InSite Platform® is ideal for internal and external advisory boards, co-author working groups, steering committees, and medical education, just to name a few examples.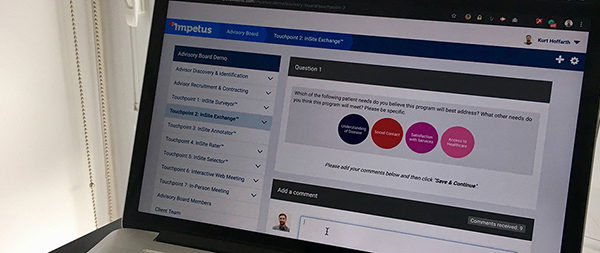 At Impetus Digital, security is our middle name!
The Impetus InSite Platform® is 100% pharma-compliant, with over 10 years of IT assessments and penetration tests under its belt. It is rigorously tested on an on-going basis, and a number of fail-safes are in place. Among other features and protocols, our platform has:
Thorough regression testing executed for each new feature or update deployed
Cutting-edge intrusion detection and prevention systems
Automated daily backups of all content uploads, code, and databases (all encrypted)
Automated SSL renewals to ensure no downtime or errors due to outdated certificates
Ongoing security updates to frameworks, open source modules, and operating systems
Region-specific cloud hosting
In addition, all employees who interact with the platform and/or client data go through annual data handling policy reviews and training. Learn more about the integrity of the Impetus InSite Platform® in our Security White Paper .