In my recent post entitled "Step 7: How to optimize web meeting advisory boards", I discussed the seventh step in augmenting the value, effectiveness, and efficiency of customer advisory boards or working groups. We have already discussed mapping out your overall key opinion leader strategy and engagement plan, outlining the issues to be solved, the metrics for success, the customers you will be targeting, the data you will be engaging them with and the modalities you will employ which can be strategically mapped out as a Longitudinal Expert Engagement Plan™ (LEEP). Step 5 discussed how to leverage asynchronous online assignments as a way to engage and "fill in the white space" between in-person consultancy meetings if these are part of your LEEP. Step 6 discussed how to integrate synchronous web meetings into your overall campaign as another integral component of your advisory board touchpoint plan. In this 8th and final step, we will be discussing how to optimize your  in-person consultancy meetings.
In-person Meeting Recruitment and Registration
If you have mapped out a Longitudinal Expert Engagement Plan™ comprised of a series of online touchpoints alongside your planned in-person consultancy meeting, you will first need to start with an online recruitment process. This is comprised of sending your advisors an HTML email outlining the objectives of the advisory board program, the number of potential touchpoints, a brief explanation of the online format, the hourly fair market value honorarium amount (if applicable), a link to the private portal with login instructions and the signature and contact information of the project lead from the sponsoring company. Once logged in, the advisor will be able to "opt-in" to the advisory board program. In other words, they can acknowledge that they will participate in all of the proposed touchpoints outlined in the LEEP. If, however, you are only planning an in-person consultancy meeting with no other online touchpoints, then after advisors "opt-in" to the program, they can be directed to the online in-person consultancy meeting registration page. Here is where your advisors can enter their most current contact information and add all of their travel, hotel, flight and food preferences for the meeting. Be sure your vendor has researched the meeting venue appropriately and selected dates where there are no other competitors meeting at the same time and that the venue has all of the appropriate amenities in place to accommodate the meeting. If an advisor notifies you that they will be attending another company's board meeting on that same date or timeframe, we recommend making a date change so as to maximize attendance. The same holds true if you get wind that there is a major conference taking place in town at the same time and/ or the hotel is booked solid as oftentimes customized service and amenities can drop during these peak periods.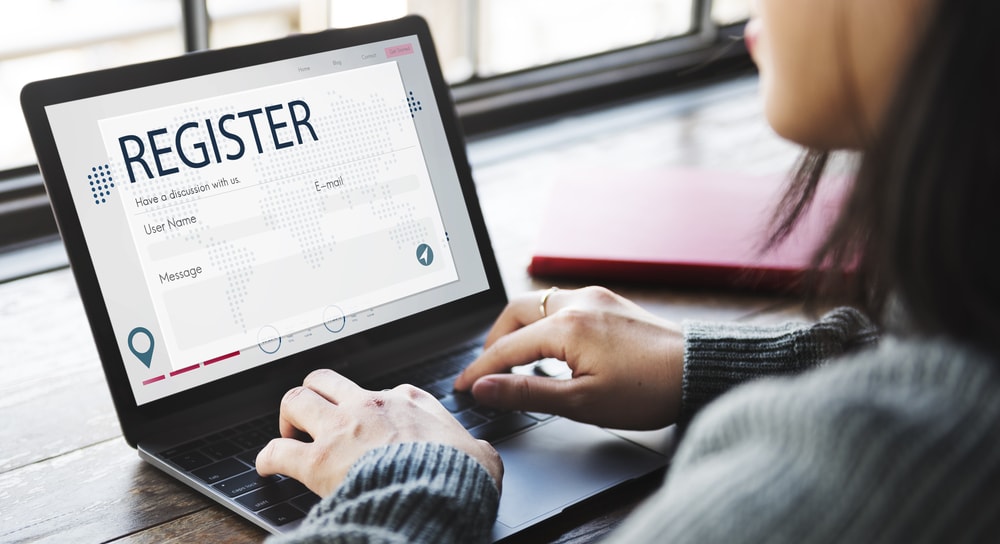 Once recruitment and registration has been completed, the advisor can then be directed to an online version of your company's Service Agreement which would outline the advisor's role both in the online and in-person meeting touchpoints (ie. role as advisor, moderator, facilitator, chairperson or speaker), the hourly honorarium amount for each specific role as well as all other contractual language pertaining to non disclosures, confidentiality, etc. The advisor will be able to acknowledge the agreement and sign it digitally or decide to print it off as a PDF, sign it manually and then fax or email it in. All the signed service agreements can be then stored confidentially in your private, firewalled Client Dashboard space located within your portal which is only visible to you. All service agreements can be viewed and downloaded for auditing purposes as well as when honoraria distributions need to take place.
We have discussed in previous steps pointers on how to deal with advisor selection and anti-spam regulations. It is important to note that clients can choose from all of the recruitment services mentioned above or they can be customized to meet your own company's internal legal, compliance and logistical requirements. For example, after opt-ins, some companies may choose to manage service agreements internally using their own platform or system. It is always a good idea to educate internal legal and compliance departments on the recruitment process in advance so as to mitigate any concerns that may surface about the online process and the service agreement outputs. We find that once familiar, most internal teams find the process to be compliant, extremely streamlined and simple to execute.
Live Meeting Pre-Work
To reduce the amount of heavy didactic sessions during the in-person consultancy meeting and in order to maximize discussion time, we highly recommend that clients employ a pre-work asynchronous online assignment before the meeting. Assignments can provide recommended resources and references that the advisors can review in advance. What makes this tool so much more effective than just sending emails, is that you can have the advisors actually interact and respond to the information. With emails, you often have no idea who even looked at the materials. You can use the pre-work assignment to expose the advisors to key data sets, charts and graphs and giving them ample time to process things before hearing the actual presentations. This will allow their responses during the actual meeting to be less "knee-jerk" and more thoughtful. The questions you pose in the pre-work will also allow the meeting organizers and the presenters to prepare in advance for the ruminations that have already been shared through the private online discussion forums. Changes to slides, agenda and workshops can be implemented in order to respond to the sentiments that have been provided through the pre-work. In addition, summaries of the responses from the pre-meeting assignment can also be captured in the meeting slides and referred to directly throughout the meeting. This gives your advisors a sense that they have been heard and makes the meeting much more relevant to their immediate opinions and concerns. In addition to presenting key data in advance, we also recommend packaging up the workshop questions and exercises into pre-work assignment questions in order to get your advisors thinking about these concepts in advance. We find this process is not duplicative but, instead, reduces the time it takes to explain the workshops and allows for more robust discussion and interaction during these interactive sessions.
In-Person Meeting Agenda
Our Most Important Question (MIQ) Discovery process is pivotal in helping to inform and drive the development of your in-person consultancy meetings. If you are running one of these, live meetings can act as the key "centerpiece" in your overall LEEP. Since they can be the core focal point in your overall map of touchpoints, Impetus likes to ensure that all your key strategic questions will be answered through some component of the meeting. Thorough planning, discussions and the teasing out of the success metrics in advance helps to ensure a much more seamless and successful meeting overall. We also like to ensure agenda preparation sessions are attended by as many of your cross functional team members as possible to ensure optimal alignment and coordination during the actual consultancy meeting. It is also imperative that a detailed workback schedule using online planning tools shared through your portal be created in order to project manage and predict deadlines for reviews, approvals, content development and dry-runs.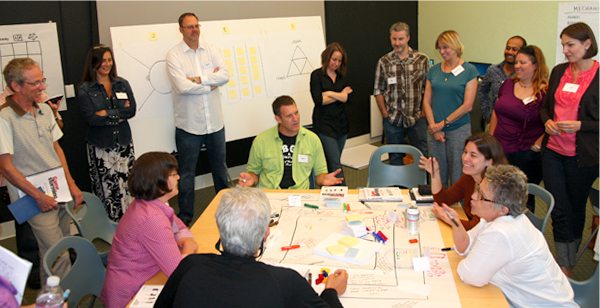 Our general strategy is to start meetings with the heavier didactic sessions when advisors are still energetic and "fresh". These are usually followed by discussion based topics and/ or panels or debates. To keep the momentum going, we often add interactive exercises such as real-time polling, "tweeting" and word cloud exercises during the speaker presentations and discussions allowing advisors to participate using their cell phones or computers. We usually backend the day with more interactive and fun workshop sessions. Impetus has developed many branded "games" to maximize creative thinking, optimize problem solving and solicit innovative suggestions. Some of these are "Stick and Rip" ranking exercises, brand specific "Snakes and Ladders", "Sail Ahead" SWOT reviews, "Magic 8 Ball", "Debate Dodge Ball"and "Relay Mind Race". Our "secret sauce" is to add real life props and interactive tools to allow your advisors to feel like they have stepped out of their regular day to day in order for them to take the plunge into the "what if" realm. The order in which these "modalities" are employed within the agenda can vary depending on speaker needs, topic consolidation, time constraints and your specific preferences and requirements.
Logistics
Logistics for live meetings start the registration process. Impetus can be used to manage all the meeting logistics or we can liaise with an internal administrator or another vendor. We provide easy access using the online portal for the logistics management company to access all the advisor registration information so hotels and flights can be booked easily and food allergies can be accommodated. The private online portal is also used to create a meeting information page housing all key meeting details such as hotel contact information, parking information, expense reimbursement and meeting room locations. In addition, this online repository also houses the meeting agenda, workshops and workstation groups as well as post meeting proceedings and summary reports. All of these can be viewable only or both viewable and downloadable. Personalized and customized emails are sent to each advisor detailing out their particular travel itineraries and hotel confirmation numbers as well as providing reminders about key start times, room locations, and other pertinent information. It is prudent to ensure that each advisor's administrator staff details are captured during the registration process. This can help to streamline communication.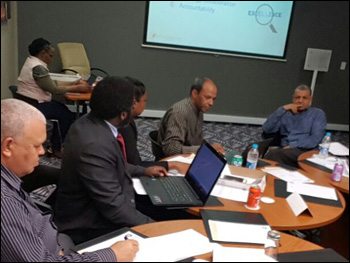 Pre-meetings with all key players prior to the meeting are essential. These include clients, moderators, chairpeople and/ or speakers and dry-runs sessions should also be proactively scheduled in order to streamline and focus presentations. We recommend also planning either pre-meeting dinners with speakers to finalize their presentations and/ or final dry-run sessions prior to the meeting start to ensure that all last minute slides are captured, modified, corrected and appropriately uploaded so as to avoid speaker frustration or meeting delays and interruptions. Dry-run sessions with the venue organizer is also recommended and "banquet orders" should be thoroughly reviewed on-site prior to the meeting. Debriefs with technology staff either the night before or early in the morning to test microphones, speakers, recording devices, LCD projects, screens, show computers, laser pointers and the wireless connections are highly recommended and can save a lot of frustration and heartache during the meeting.
It is also worthwhile securing meeting rooms the night before the meeting and doing as much room setup and preparation as possible to streamline the meeting reception process and to rectify any banquet order errors or omissions that may arise. This is also important if there are any breakout rooms that require special seating, setup, resources or technology. It is highly recommended that you specifically request a single point person from the venue who will be responsible for your event and is easily accessible and available during the meeting. Often times last minute requests pop up such a changing the room temperature or lighting and you don't want to be left hanging. Be sure your vendor has organized a coffee cart at the back of the room to reduce the number of advisors leaving the room and that bathrooms are located close by.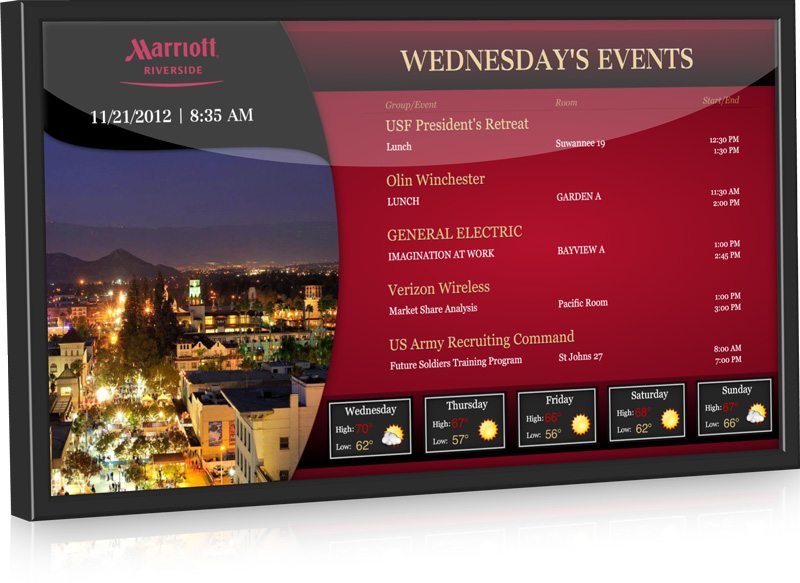 Be sure to check out signage options with your venue administrator in advance in case electronic signs are not available. In these situations, pre-printed signage with directional arrows should be brought to the meeting and placed on poster stands. Be cognizant of other potential competitors meeting within the same facility and do not mention actual brands on your signs although company names and logos are fine. If the meeting room is located on another floor or not proximal to the entranceway, it is always useful to have one of your vendors greet people when they arrive and provide appropriate directions. You will also need to ensure that your vendor ships any bulky items or meeting materials well in advance of the meeting and directed to the right person for safe keeping. In these situations, materials need to be printed in prior to the meeting so your vendor will need to make arrangements with the business center located within the meeting venue if any last minute changes are required by either you or your speakers.
To encourage maximum advisor interaction, setting up the room with one large U-shaped table is best. If more than 25 people are in attendance, move some of your colleagues to the back of the room so as to maintain a feeling of intimacy for your advisors. For smaller group discussions and workshops, small round tables are ideal. Be sure to include tent cards on the table and ensure adequate visibility so advisors are not made to feel uncomfortable if they forget someone's name. Care should also be taken when setting up the seating arrangement and knowledge of close advisor relationships or known personality conflicts should be considered in advance. Situate your pharma colleagues strategically next to advisors they want to connect with or who they would like to casually consult with during the meeting.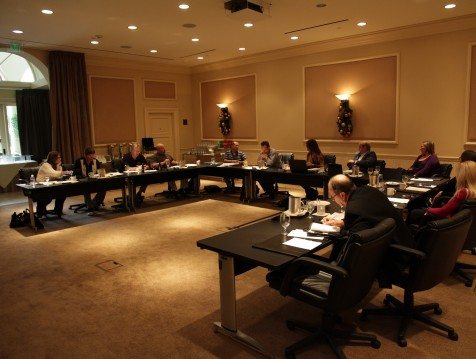 You will want at least 2 representatives from your logistics company to be present on site during your consultancy meeting. One to manage the pre-meeting "sign-in" process, which normally occurs at a desk outside of the main meeting room, to get participants to sign the attendee list (required for compliance purposes), sign any last minute documents like service agreements, and to provide any handouts, folders or name tags required for the meeting. This same individual should also be available for any advisor questions or last minute flight, transportation or hotel snafus or changes that may arise. The second individual should be monitoring and orchestrating meeting timing to ensure that as much of the agenda is accomplished as possible. This can sometimes be facilitated through the use of unobtrusive countdown timers positioned in front of the room, reset for each person's presentation or session. This individual will also be responsible for monitoring materials both in the main meeting room and in the workshop breakout rooms (if being used) and troubleshooting with the hotel concierge and/ or technology representative should any problems arise.
Adequate breaks and mealtimes should be built into the agenda to ensure participants are refueled and allow for advisor networking and free flowing discussions in a more relaxed, less formal environment. It is often useful if your vendor eats alongside with your advisors in order to ask clarifying questions, make provocative statements that may get included in later sessions or to gather competitive intelligence. In advance of meals, your vendor should also ensure that all advisors with dietary restrictions are provided these in a personalized and inconspicuous manner.
Reporting and Debriefing
In order to facilitate timely advisor departures, Impetus recommends not using paper copies of evaluation forms, but instead, to leverage your online portal for the post-meeting evaluation. You should include questions, not only about providing feedback on the venue, but to leverage this as an addendum to the meeting in order for you to capture key salient points, suggestions, and recommendations from each of your advisors. This will also allow each participant to repackage what they had learned during the meeting and serve it back up to you. Ensure that your vendor has an experienced medical writer on site during the meeting and has familiarity with the topics, acronyms, disease area and key studies so that they are adequately equipped to capture meeting notes and deliver an effective meeting summary, analysis, and recommendations. Your vendor should set up a debrief session with you and your cross functional team to review the Summary Report. This report is best provided as a powerpoint deck in order that you may present key slides to your larger cross functional team and other interested leadership team members at a later date. The report should also integrate all of the meeting evaluation responses and the rating and ranking questions in the form of charts and graphs. The debrief should not be a rehash of the Summary Report, but instead, should be a carefully curated list of key insights and strategic "next steps" that you may want to consider as part of, or in addition to, your current LEEP.
Live meetings, albeit more expensive and time intensive to organize and attend than either web meetings or asynchronous online assignments, can be an excellent way to gather deep insights, forge and build customer relationships, as well as foster company and brand advocacy.


Homework time!
Want to skip ahead? Curious how this actually works?
Sign up for a special complimentary, no obligation, personalized one-on-one web meeting demonstration to see how the MIQ Discovery process works and how InSite Exchange™, InSite Surveyor™, annotation exercises, and our other best-in-class tools could be leveraged for your next advisory board or steering committee.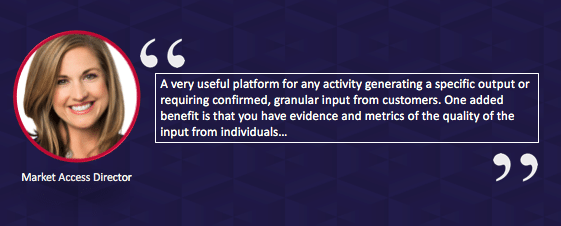 ---