Press Release
Contact:
Jess Masciangelo, Global Business Development Director
jmasciangelo@impetusdigital.com
meetwithimpetus.com
InSite Events™ selected as an honorable mention in the Established Excellence (5-14 years) category of Fast Company's 2021 World Changing Ideas Awards
From a cleaner freight train to an automated beehive, a way to recycle fabric, and other bold, new technologies, the 5th annual awards honor the products, concepts, companies, policies, and designs that are pursuing innovation for the good of society and the planet. 
New York, May 4, 2021 — The winners of Fast Company's 2021 World Changing Ideas Awards were announced today, honoring the businesses, policies, projects, and concepts that are actively engaged and deeply committed to pursuing innovation when it comes to solving health and climate crises, social injustice, or economic inequality.
InSite Events™ by Impetus Digital received an honorable mention in the Established Excellence (5-14 years) category. InSite Events™ was honored because of its groundbreaking impact on the world of medical education, communication, and collaboration. It enables global stakeholders to participate in larger numbers, thus allowing more diverse viewpoints and accelerating even greater serendipitous moments than traditional in-person events. Each attendee's voice and presence in the meeting are democratized, giving them full rein to customize their experience and share their opinions with equal resonance.
Further, InSite Events™ completely removes the need to travel to attend events, thereby reducing the associated carbon emissions. Medical conferences are typically attended by several hundred participants; virtualizing these events plays an important role in minimizing our environmental footprint.
Unique features that were highlighted in the submission included that InSite Events™ is the most comprehensive life science-specific platform on the market. Further, when attending events, participants are continuously engaged, from registration to weeks after the event. Finally, during the event, our large portfolio of real-time engagement activities and games ensures high participant engagement and interactivity.
Now in its fifth year, the World Changing Ideas Awards showcase 33 winners, more than 400 finalists, and more than 800 honorable mentions—with Health and Wellness, AI & Data among the most popular categories. A panel of eminent Fast Company editors and reporters selected winners and finalists from a pool of more than 4,000 entries across transportation, education, food, politics, technology, and more. Plus, several new categories were added, including Pandemic Response, Urban Design, and Architecture. The 2021 awards feature entries from across the globe, from Brazil to Denmark to Vietnam.
Showcasing some of the world's most inventive entrepreneurs and companies tackling exigent global challenges, Fast Company's Summer 2021 issue (on newsstands May 10) highlights, among others, a lifesaving bassinet; the world's largest carbon sink, thanks to carbon-eating concrete; 3D-printed schools; an at-home COVID-19 testing kit; a mobile voting app; and the world's cleanest milk.
"We are thrilled to again be recognized as pioneers and leaders in the virtual event space for life science companies," says Natalie Yeadon, Co-founder and CEO of Impetus Digital. "As an all-in-one platform, InSite Events™ truly is world-changing in so many ways," she continues. "Our mission is to replace stress and uncertainty and to provide our clients with confidence and blissful virtual and hybrid experiences, all while reducing their environmental footprint."
"There is no question our society and planet are facing deeply troubling times. So, it's important to recognize organizations that are using their ingenuity, impact, design, scalability, and passion to solve these problems," says Stephanie Mehta, editor-in-chief of Fast Company. "Our journalists, under the leadership of senior editor Morgan Clendaniel, have discovered some of the most groundbreaking projects that have launched since the start of 2020."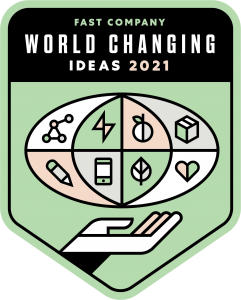 ---
About Impetus Digital
Impetus Digital helps life science organizations virtualize their in-person meetings and events through our best-in-class InSite Touchpoints™ and InSite Events™ offerings, delivered with white-glove service and 360° coverage and care. Leveraging our large portfolio of cutting-edge online collaboration tools, clients can seamlessly gather insights from, and collaborate with, internal and external stakeholders. To find out more about Impetus Digital, visit our website, follow us on LinkedIn or Twitter, or book a demo at meetwithimpetus.com
About the World Changing Ideas Awards
World Changing Ideas is one of Fast Company's major annual awards programs and is focused on social good, seeking to elevate finished products and brave concepts that make the world better. A panel of judges from across sectors choose winners, finalists, and honorable mentions based on feasibility and the potential for impact. With the goals of awarding ingenuity and fostering innovation, Fast Company draws attention to ideas with great potential and helps them expand their reach to inspire more people to start working on solving the problems that affect us all.