Press Release
Contact:
Amelia Karimi
Human Resources Coordinator
akarimi@impetusdigital.com
Impetus Digital wins Canada's Most Admired Corporate Cultures Awards 2021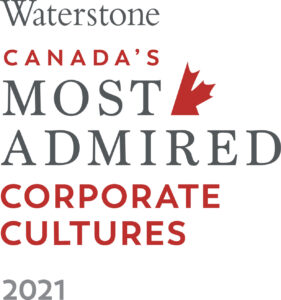 Toronto, ON, November 25, 2021– After a lengthy submission and voting process and amongst fierce competition, Impetus Digital has been selected as a winner of Canada's Most Admired Corporate Cultures Awards 2021 in the Emerging Company category by a voting committee comprising past years' winners. This is an immense honor and would not have been possible without every single person on our team living and breathing our values and giving 110% each day.
Entries were judged based on six key performance areas, including vision and leadership, recruitment and hiring for fit, people development and talent management, cultural alignment and measurement, corporate social responsibility, and organizational performance.
"At Waterstone, we believe corporate culture drives performance and that it's your organization's greatest asset," says Marty Parker, President and Chief Executive Officer of Waterstone Human Capital and Chair of the Canada's Most Admired™ program. "Each of the 2021 award recipients puts culture at the centre of everything they do, and demonstrates a commitment to culture as competitive advantage. They set an excellent example of how crafting and sustaining a high performance culture can drive incredible growth and performance." 
Here is what some of our team members had to say when asked to explain Impetus' unique company culture:
"Every single member of our team rose to meet each novel challenge the pandemic brought to us in 2020. When faced with an "all hands on deck" scenario, there was no hesitation to embrace new roles, workflows, ideas, and to provide omnidirectional support–internally and externally–through all of 2020. Our company's culture guided us through our most challenging year to date, and in 2021 we have adopted "wellness" as our newest core value. Everyone is encouraged to include 'wellness time' as part of daily work activity, and to support each other in company-wide challenges and personal growth initiatives."
– Dan Wells, Digital Solutions Specialist
"Impetus is an extremely flat company with no egos. This is much different from other traditional agencies I've been a part of, and was particularly helpful during COVID when our workload increased three-fold. The team banded together amidst the challenges of company growth and continued to deliver the best product and client experience we're known for. I honestly believe any other company would have buckled under the pressure. Even beyond work, it's the people that make the company and culture and the owners work fiercely to maintain the special culture and atmosphere they've worked so hard to cultivate as we grow. Kudos to the team!"
– Ben Wong, Account Director
"Switching to a new job in the middle of the pandemic and on boarding with a company remotely was a scary thought initially, but Impetus somehow has created a culture that is even more tangible and noticeable than any office setting I have ever worked in. The comrade and support I get from every member of the team has made knocking projects out the park a weekly experience. My definition of an effective team has changed forever!"
– Travis Drew, Digital Solutions Specialist
"[Impetus is] a place where innovation, collaboration, and entrepreneurship is embodied in every member of the organization, and where it starts at the top. Even though we all work remotely, the "all hands on deck" approach to everything we do as individuals, contributes to a sense of close-knit community — we all put in 110%.  A  place where everyone is empowered, accountable, reliable to get the job done and the goal is always to WOW the customer!"
– Joelle Robitaille, Account Director
Want to learn more about our company culture and submit your CV for consideration? Check out our Careers page for more information and current openings.
---
About Impetus Digital
Impetus Digital helps life science organizations virtualize their in-person meetings and events through our best-in-class InSite Touchpoints™ and InSite Events™ offerings, delivered with white-glove service and 360° coverage and care. Leveraging our large portfolio of cutting-edge online collaboration tools, clients can seamlessly gather insights from, and collaborate with, internal and external stakeholders. To find out more about Impetus Digital, visit our website, follow us on LinkedIn, Twitter, or Facebook, or book a demo at meetwithimpetus.com
About Waterstone Human Capital:
At Waterstone Human Capital, we inspire organizations to build high-performance cultures. We're a human capital management consulting firm specializing in retained executive search, cultural measurement and assessment, and leadership training and development. We have successfully helped hundreds of entrepreneurial-minded, high-growth organizations across North America recruit, measure and train for fit. Waterstone is also the founder of the Canada's Most Admired™ Corporate Cultures and Canada's Most Admired™ CEO programs. These national programs annually recognize best-in-class Canadian organizations and CEOs, for fostering cultures that enhance performance and help sustain a competitive advantage.