This case study was originally posted on the Green Business Bureau blog.
The Problem
National and international pharmaceutical meetings and events such as advisory boards, conferences, and enterprise-wide internal meetings typically require traveling by air and/or land transportation to a physical venue. Sometimes, participants fly in for just a day or two. In addition to travel-related greenhouse gas emissions, in-person meetings and events also come with a large environmental footprint from things like printed agendas and collateral materials, catering of food and drinks, accommodation, audio-visual (AV) rentals, and much more. In general, the larger the number of participants and the longer the event, the larger the negative impact on the environment.
In early 2021, due to COVID-19-related safety concerns and travel and social distancing restrictions, our client needed help to "virtualize" their nationwide, multi-day, multi-business unit internal event with 375 attendees. They wanted to avoid the phenomenon of "Zoom fatigue" and create an experience as engaging and interactive as past in-person events. Specifically, they were looking for a mix of live presentations, on-demand videos, breakout workshops, exhibitor booths, networking, wellness breaks, and social events, along with behind-the-scenes technical and strategic support.
The Solution
To create a safe and sustainable event without compromising on participant interactivity, engagement, or satisfaction, the client contacted Impetus Digital. Leveraging our award-winning virtual event platform, InSite Events™, and our large suite of synchronous (real-time) and asynchronous (over-time, anytime) online tools, we set out to create a fully immersive event experience.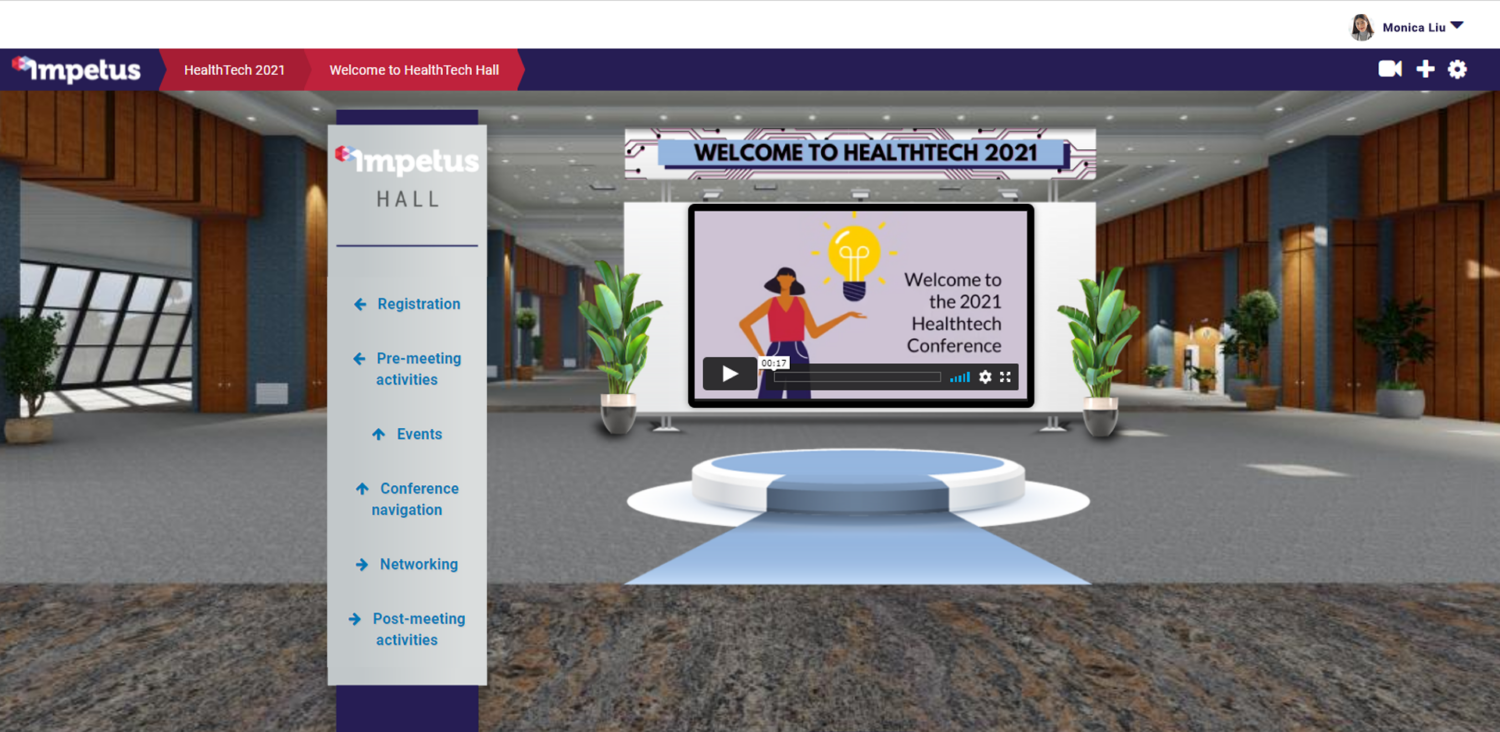 The Results
Substantially reduced travel-related emissions
Compared to hosting an in-person event in a major metropolitan city, as the client would have typically done, virtualizing the meeting resulted in estimated transport-related CO2e savings of between 54–59 metric tons, including:
51.4 metric tons in flight emissions

(110 domestic return flights)

7.55 metric tons in ground transport emissions

(265 individual round trips from participants' homes to the meeting venue; 110 round trips from out-of-town participants' homes to the nearest local airport and 110 round trips from the airport to the downtown meeting venue).
Best case scenario, assuming that everyone would have carpooled with participants living in the same area to their local airport and/or meeting venue, with up to 4 people in each car, the CO2e emissions from ground transportation would have still been about

3.2 metric tons

.
Major cost-savings
As an added bonus, costs, emissions, and waste associated with hotel rooms, meal catering, and venue rental were eliminated by virtualizing the meeting, resulting in a sustainable and cost-effective event with a higher attendance rate than if the meeting had been held in person. The flow-through cost-savings vs. an in-person event of the same size were estimated to be approximately $600,000 USD, including:
Meeting room rental, AV rental, food & drinks, meeting materials:

$384,375

Hotel rooms for all participants:

$225,000

Flights:

$31,500

In addition,

costs associated with taxi rides, parking fees, and gasoline for those driving were also eliminated

.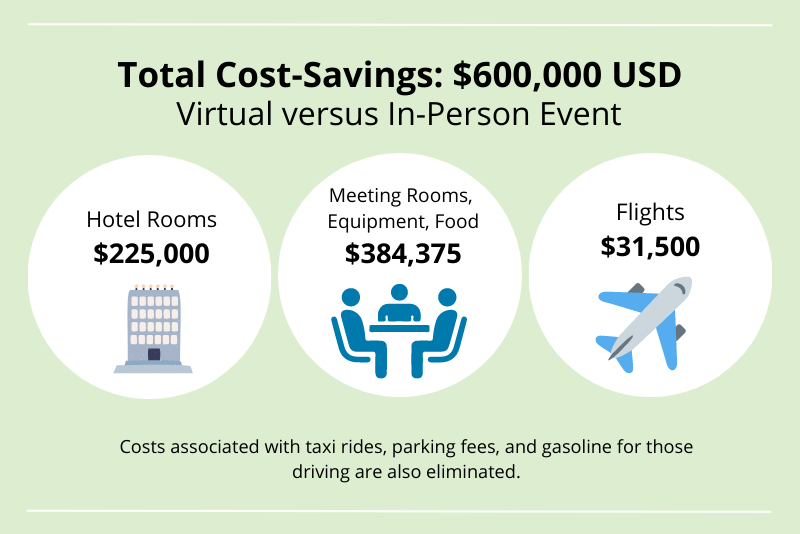 High participant satisfaction and engagement
By replicating all key elements of in-person events, including virtual social and wellness sessions, networking, exhibitor booths, breakout workshops, and team-building activities, both the organizers and participants were highly satisfied with the virtual event and online platform. A total of 99% of participants rated the overall meeting experience as good/very good/excellent, with 92% rating the experience as either very good or excellent. Likewise, 99% of participants rated the interactivity as good/very good/excellent.
Leveraging a variety of real-time and over-time virtual tools further resulted in substantially reduced times to insight-gathering and decision-making, a higher quantity and quality of insights gathered, and more seamless data- and best practice-sharing. As a result, the client worked with Impetus again on a second event in the fall of 2021, once again using the InSite Events™ platform and the same meeting format, and future virtual events are planned in 2022.
---
About Impetus Digital
Impetus Digital partners with life science organizations to virtualize their in-person meetings and events through our best-in-class InSite Touchpoints™ and InSite Events™ offerings, delivered with white-glove service and 360° coverage and care. Leveraging our large portfolio of cutting-edge online collaboration tools, clients can seamlessly gather insights from, and collaborate with, internal and external stakeholders. To find out more about Impetus Digital, visit our website, follow us on LinkedIn, Twitter, or Facebook, or book a demo at meetwithimpetus.com