Have you ever wondered what artificial intelligence would say about the Impetus InSite Platform®? Well, wonder no more – we asked an AI software to explain how oncology brand teams can leverage our platform and services. Here is what it said!
Benefits of using the Impetus InSite Platform
®
Oncology brand teams can reap significant benefits from using the Impetus InSite Platform®. This platform is instrumental in facilitating virtual communication with populations that are often overlooked due to geographic, language, or cultural barriers, thereby increasing diversity and representation in clinical trials. Beyond this, the platform offers comprehensive solutions for conducting online advisory boards and focus groups, enabling teams to establish an open dialogue with their target audience. 
The platform also provides patient partners with a platform to assist in the protocol co-development process, which can improve adherence and satisfaction, and decrease drop-out rates during clinical trials. Regarding data dissemination, the Impetus InSite Platform® eliminates any language obstacles through the use of translation and interpretation services to simplify manuscript writing and plain language creation. By incorporating the various tools and resources at their disposal, oncology teams can become compliant while engaging sophisticated target audiences in an efficient and convenient manner. 
Additionally, this platform is inflation-neutral, allowing teams to gain insight from healthcare providers, payers, and patients without being affected by external elements. As a result of this feature, as well as its vast array of collaboration tools, teams can develop internal training programs seamlessly while simultaneously strengthening their training goals. Finally, using the platform for virtual advisory board meetings introduces diversity into operations, which can ultimately improve patient outcomes.
Key features of the Impetus InSite Platform
®
The Impetus InSite Platform® facilitates an array of online activities, providing both synchronous and asynchronous tools to optimize participant engagement, interactivity, and insight collection. Asynchronous activities include discussion forums (InSite Exchange™), survey-style questions (InSite Surveyor™), an annotation tool (InSite Annotator™), selection and ranking tool (InSite Selector™), customizable drag-and-drop tool (InSite Mapping™), visual rating tool (InSite Rater™), and a customizable gamification tool (InSite Team Race™). 
Meanwhile, synchronous activities are supported by the platform's custom-branded, secure, and Pharma-compliant portal, which can facilitate data or case study presentations, moderated discussions, and workshops with or without gamified experiences, with additional support for strategic discussions, agenda development and slide deck collation. Additionally, there are further options, including instant speech-to-text, automatic translation with multilingual capabilities, and a medical writer who can provide an Analysis & Recommendations report. Users can benefit from participant support on any device, anytime, during multiple sessions. The Impetus InSite Platform® provides a comprehensive portfolio of life science-specific tools. The platform stands out due to its 15+ years of experience in virtualizing meetings and events, Impetus' signature White-Glove™ services, 360-degree support, largest number and variety of asynchronous tools designed specifically for life science companies, as well as two "soup-to-nuts" award-winning virtual meeting and event solutions.
What advantages does the Impetus InSite Platform
®
offer over other similar platforms?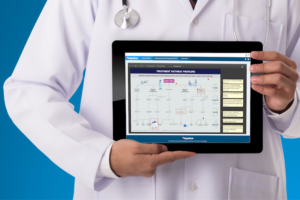 The Impetus InSite Platform® offers a number of distinct advantages when compared to other similar platforms. It is both time and cost-effective, allowing meetings to reach three times as many customers or involve the same number of advisors four times over traditional in-person meetings. Moreover, due to its asynchronous touchpoints, participants can enjoy increased engagement rates of 90-100%, which is 30% higher compared to in-person consultancy meetings. Furthermore, the Impetus InSite Platform® is designed for creative engagement options such as OLAs, journal clubs, case study discussions, post-conference debriefs, patient journey mapping, and treatment pathway profiling. 
Additionally, it includes a variety of asynchronous tools like annotation and selection tools, interactive widgets, "gamestorming" activities, and the Six Thinking Hat tool to take touchpoints to the next level. It also allows for role-play activities and an expert moderator can be added to further increase engagement. Finally, its virtual touchpoints are enhanced by automatic translation tools and expert interpretation services that allow participants to interact freely with colleagues from around the world. Moreover, valuable insights can be gathered due to polls, surveys, breakout rooms, and recurring meetings. Altogether, these features make the Impetus InSite Platform® an attractive choice for those seeking an efficient, user-friendly platform that ensures maximum participant engagement.
What specific tools are useful for oncology brand teams?
The Impetus InSite Platform® provides varying tools to assist oncology brand teams. The platform's virtual communication vehicle is capable of engaging those who are hard to reach, while online advisory boards and focus groups allow for needs assessments. Moreover, this cost-effective solution is two-way and collaborative among internal and external stakeholders, including patients and caregivers. Anonymous participation and visuals can be tailored to meet data security requirements. Additionally, interpretation and translation services are also provided to remove language barriers. Utilizing the platform's vast range of tools, such as InSite Exchange™, InSite Surveyor™, data visualization tools, "gamestorming" activities, and the Impetus Six Thinking Hat Tool, can help increase interactivity and engagement in virtual advisory board touchpoints. 
Further considerations should include OLAs, journal clubs, case study sessions, post-virtual conference debriefs, patient journey mapping or treatment profiling. It is important to also consider any unmet needs advisors and their patients have, as well as the product or brand's key attributes of concern or appreciation from both HCPs and payers. 
In conclusion, the Impetus InSite Platform® is a beneficial toolbox available to oncology brand teams, offering a variety of virtual offerings such as InSite Annotator™ for compliant market access discussions, InSite Surveyor™ capabilities for treatment pathway profiling and anonymous survey inquiries, InSite Mapping™ for patient journey and PSP development purposes, and an online community portal with on-demand webinars for medical education programs.
Is it possible to customize the Impetus InSite Platform® to best suit the needs of an oncology brand team?
The Impetus InSite Platform® enables the customization required to address the needs of an oncology brand team. Impetus Digital provides a spectrum of life science-specific asynchronous collaboration tools, such as a survey-style question feature, an annotation tool, a drag-and-drop tool, an instant speech-to-text tool, and a multilingual capability. Moreover, Impetus' synchronous virtual touchpoints (SVTs) are ideal for presenting data or case studies, moderating discussions, and conducting question-and-answer sessions. Moreover, Impetus provides many services, including agenda development, slide deck collation, faculty coordination, and the tailored management of invitations for SVTs.
What ultimately sets Impetus apart from other virtual event organizers is their signature White-Glove™ Services and 360-degree support. The platform is well-suited to address a range of topics such as unmet needs, product branding, marketing strategies, and localized regulatory issues. Furthermore, it can be used for post-virtual conference debriefs, patient journey mapping, or treatment pathway profiling. Thus, with its range of tools, services, and 360-degree support, it is evident that the Impetus InSite Platform® can be tailored to best suit the requirements of an oncology brand team.
How user-friendly and intuitive is the navigation of the Impetus InSite Platform®?
The Impetus InSite Platform® is designed with great usability and intuitiveness in mind and has been met with much enthusiasm from its users. Clients and participants alike have praised the platform's user-friendliness and ease of navigation, with no need for additional training. It offers great convenience and flexibility, allowing for participation from home or office, as well as interaction with colleagues from all corners of the world, thanks to its automatic translation tool, expert interpretation services, and around-the-clock support. Additionally, features such as the asynchronous InSite Exchange™ discussion forum tool or chat feature during real-time web meetings allow for equal contribution from all participants. All in all, users of the Impetus InSite Platform® can take advantage of its user-friendly and intuitive navigation system.
Conclusion
The utilization of Impetus InSite Platform® affords various cost-saving benefits. For instance, virtual advisory boards enable savings on time and expenses compared to in-person meetings, which would traditionally involve renting a venue, arranging transportation, and providing refreshments. Aimed at accommodating all participants' often-busy schedules, such ascriptive meetings can reach up to three times the given audience, or alternatively, permit four virtual sessions in lieu of one in-person meeting.
Furthermore, statistically speaking, these alternative methods are likely to improve engagement rates, up to 90-100%. Additionally, improved quality and quantity of insights may be garnered from applying the platform, which provides attractive cost efficiency for pharmaceutical organizations. All considered, the Impetus InSite Platform® is a valuable tool with respect to cost savings.
Note
This article was created by AI as a fun experiment only! At Impetus Digital, we fully embrace digital transformation while believing the that human aspect is invaluable and will never be replaced.
---
About Impetus Digital
Impetus Digital helps life science organizations virtualize their in-person meetings and events through our best-in-class InSite Touchpoints™ and InSite Events™ offerings, delivered with white-glove service and 360° coverage and care. Leveraging our large portfolio of cutting-edge online collaboration tools, clients can seamlessly gather insights from, and collaborate with, internal and external stakeholders. To find out more about Impetus Digital, visit our website, follow us on LinkedIn or Twitter, or book a demo at meetwithimpetus.com