Early screening, diagnosis, and management of cancer improve patient survival and reduce symptoms. However, while some common cancers such as breast, prostate, and cervical cancers are routinely screened for, many others are currently difficult to detect. Consequently, they are often detected in the late stages, adversely affecting the patients' survival probability. In recent years, digital technologies have begun playing an increasingly large part in healthcare. Oncology is no different; digital tools are being developed to aid at all stages of the cancer journey. From simple apps aimed at promoting healthy habits and thereby preventing lifestyle-related cancers, to advanced technologies for detecting rare and obscure cancers. This is an exciting field with enormous potential.
In this article, I discuss some of the currently available digital technologies for preventing, detecting, and managing cancer. Further, I highlight the potential future uses of digital technology in oncology, along with the challenges it faces.
Digital Tools for Cancer Prevention
To date, thousands of health-related mobile apps have been developed, most of which focus on tracking or improving lifestyle habits. In theory, some of these have great potential for preventing lifestyle-related cancers such as smoking cessation apps for preventing lung cancer. However, strong evidence from large-scale studies regarding their effectiveness is still lacking.
Focusing particularly on cancer apps, most apps on the market are concerning breast cancer or cancer in general. Further, most aim at either raising awareness or providing cancer education. On the other hand, apps aimed specifically at cancer prevention or management are relatively rare, indicating a potential unmet need.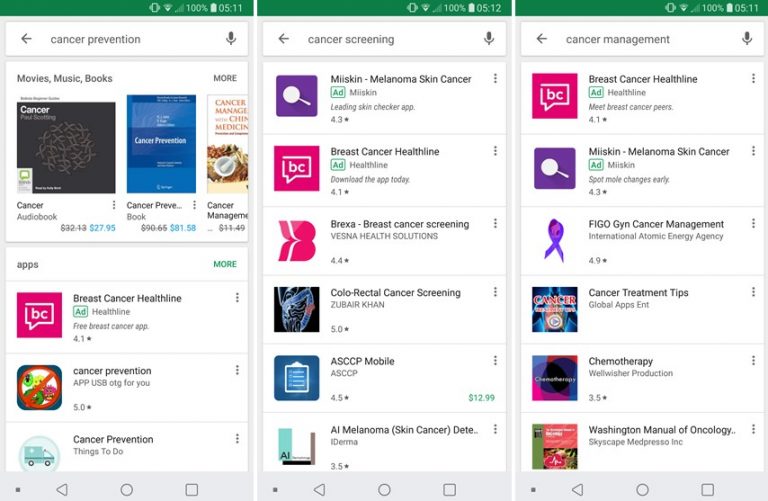 Digital Tools for Cancer Detection and Diagnosis
The use of digital technology for cancer detection is an exciting field with a lot of potential. Electronic breath sensors connected to smartphones such as the "Sniffphone," an EU-funded project, are currently under development and expected to reach the market soon. These sensors, known collectively as NA-NOSE technology, can detect volatile organic compounds (VOCs) from breath. A mobile software can then instantly analyze the patient's VOCs and detect several diseases, including some early-stage cancers. Data suggest that this type of digital cancer screening has a high accuracy, indicating that this could represent a cost-effective means of improving cancer diagnosis.
Similarly, electronic sensors analyzing small blood samples for the detection of particles shed from cancer cells are also undergoing trials. If found to be effective in large clinical studies, this type of assay could help detect difficult-to-diagnose cancers at a much earlier stage.
Another major type of digital cancer screening is imaging-based screening. For example, mobile apps screening for skin cancer are available, although their reliability can be debated. In general, these apps work by either comparing photos of a person's moles to those of known benign nevi or malignant lesions ("algorithm analysis"), or by tracking the evolution of a mole over time ("track-and-remind" applications). There are also "teledermatology" applications, which lets the individual send photos to a dermatologist for assessment along with their relevant medical and personal history.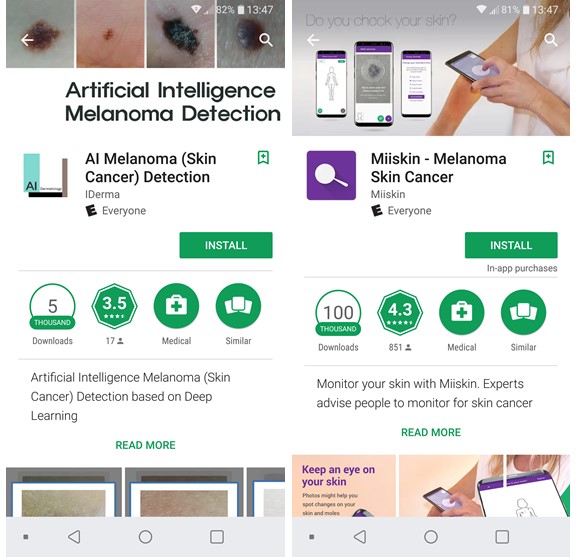 Digital Tools for Cancer Management
Digital technology can improve cancer management in numerous ways, including by helping doctors plan surgery better, predict its outcomes, and by providing patient education and support. Among many other types of digital technologies, the following tools are currently available or in development:
Digital Symptom/Adverse Event Tracking
By allowing patients to evaluate their adverse effects of anti-cancer therapy continuously, mobile health apps enable prompt identification and management of toxicities. In turn, this positively affects the overall survival of cancer patients. Further, electronic patient-reported measures of adverse events can be used in early-phase oncology clinical trials to support the selection of tolerable dose levels and schedules, and to measure baseline symptoms.
Digital Blood Test Analysis
Development is underway for device that can measure the levels of white cells and hemoglobin from blood obtained from a finger-prick at home. Subsequently, the results are transmitted to the treating oncologist to assess. By enabling patients to test their blood at home, the number of hospital or clinic visits can be greatly reduced, saving both time and resources.
Wearable Health Technologies and Therapeutic Devices
In addition to their potential for encouraging lifestyle modifications to reduce the risks of certain cancers, wearables also have potential in the management of cancer. For example, they can track blood pressure, heart rate, body temperature, and sleep patterns. Analyzing these data can help physicians with decision-making and provide important clinical data.
Wearables can also provide non-invasive treatment and pain relief to cancer patients. For example, Quell is a light-weight band around the upper calf marketed as a 100% drug-free wearable technology for relief from chronic pain. It uses electricity to stimulate the nerves that carry neural pulses to the brain, thereby blocking pain signals around the body. This technology comes with a smartphone app allowing the patients to track their sleep and activity patterns, along with other health indicators. Other new wearable technologies include balance sensors for patients with chemotherapy-induced peripheral neuropathy and special glasses with a fluorescence imaging system for complete resection of tumors.
Additionally, non-invasive "necklaces" are being studied as a means to monitor drug adherence by detecting the swallowing of the drug. These devices use a piezoelectric sensor that converts the movements occurring in the neck during swallowing into electrical signals. Subsequently, these transmit to a smartphone app whose algorithms can distinguish swallowing of medications from swallowing of vitamins, saliva, water, and during speaking.
Implantable Sensors
Digital sensors that are implanted under the skin are also available. Such sensors allow for continuous monitoring of key vital signs or medication adherence, and can alert patients and caregivers if there is a problem.
Digital Apps and Games for Cancer Management
Similar to the mobile apps available for cancer prevention, there are some cancer management apps. For example, studies have demonstrated that digital games show some effectiveness for providing health education and intervention. Further, they can deliver disease self-management training and attention distraction to relieve pain. In turn, this may result in lifestyle improvements and potentially enhance clinical outcomes.
Artificial Intelligence for Cancer Diagnosis and Management
One of the most exciting technologies for oncology diagnosis and management is without a doubt artificial intelligence (AI). Among countless potential applications, AI may help distinguish slow- vs. fast-growing cancers, as previously discussed here. Further, trials of deep learning for improving the accuracy and efficiency of histopathological diagnosis have been conducted. The findings indicate the potential of deep learning to reduce the workload for pathologists, while simultaneously increasing objectivity.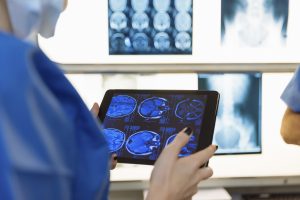 AI also shows promise in aiding with radiation target planning for head and neck cancers and for improving breast and skin cancer screenings. Moreover, AI can determine the chemotherapy dose most likely to be effective while minimizing side effects. The possibilities are endless!
What Does the Future Hold for Digital Technology in Oncology?
It is clear that digital technologies and AI will play major roles in oncology in the future. Mobile health enables the possibility to engage entire populations, develop supportive social networks, connect patients with providers, encourage treatment adherence, and collect large amount of data for cancer research. We are only just seeing the beginning of this era. For this reason, large-scale clinical trials and real-world studies evaluating the effectiveness of these tools are sorely needed. By investing in and conducting research to build a solid evidence base, the potential of mobile health technologies for cancer prevention and treatment can be realized in the near future.
Challenges and Barriers
However, in addition to the lack of large-scale trial data, some obstacles remain before digital technologies will be part of routine oncology practice. For example, there are privacy concerns surrounding mobile applications that collect personal data, as well as a lack of clear regulations.
Attention to broader audiences is also needed, including for non-English speakers. Focusing particularly on mobile health, evidence-based cancer prevention apps considering multiple risk factors and that are suitable for patients with poor technology literacy are needed. Finally, education and marketing strategies to get more patients and providers to embrace the technology should be developed.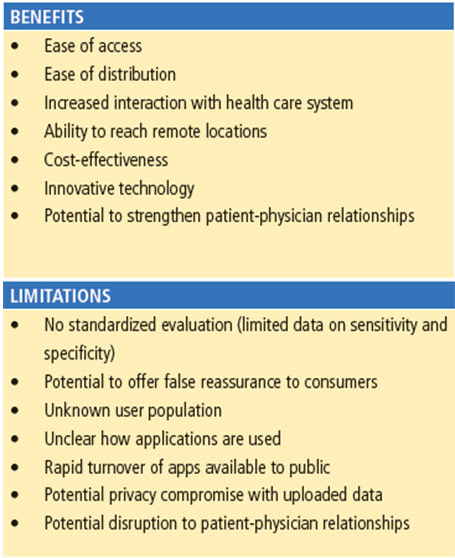 How Virtual Advisory Boards Can Help
Whether you are looking for help to design a trial protocol, navigate safety regulations, or developing marketing messages, engaging and interacting with key opinion leaders is essential. There is a need for the healthcare community and all relevant stakeholders to join forces and start collaborating. This, in turn, will transform the field of oncology. However, getting all of your advisors to meet in person for a one-off meeting can be not only difficult but also expensive.
Online advisory boards and steering committees, consisting of influencers and "future thinkers" from across the globe, are a simple, efficient, and cost-effective way to create seamless collaboration, develop consensus documents, and establish new policies to foster and feed accelerated change.
Stakeholders can include researchers, oncologists, surgeons, radiologists, pathologists, administrators, payers, and other experts. The enrolled advisors engage through a series of online touchpoints. These can either be in the form of web meetings or online asynchronous assignments delivered as survey questions via InSite Surveyor™, discussion questions via InSite Exchange™, or annotation exercises. The virtual nature of the boards and working groups can help increase the engagement rates of the advisors. Moreover, the assignments can give the advisors or steering committee members time to pause, reflect, process, and review their colleagues' comments on their own time. In turn, this allows for more thoughtful and granular insights shared through the online forums.
References
Canadian Cancer Society. (2018). New technology to diagnose hard-to-find cancers. Retrieved from http://www.cancer.ca/en/about-us/our-research/fighting-for-life-on/fighting-for-life-4-on/?region=on
CORDIS. (2017). A smartphone sensor to detect disease factors in breath. Retrieved from https://phys.org/news/2017-01-smartphone-sensor-disease-factors.html
CORDIS. (2017). A smartphone sensor to smell your breath… and instantly detect disease. Retrieved from https://cordis.europa.eu/news/rcn/127411_en.html?WT.mc_id=Twitter
Crew, A., Tyagi, A., Miller, K., Cockburn, M. (2014). E-health tools for melanoma screening. The Melanoma Letter, 32, 3. Retrieved from https://www.skincancer.org/publications/the-melanoma-letter/fall-2014-vol-32-no-3/tools
IMT digital health. (2014). Smartphone Medical Apps to Turn Into Cancer-Detecting Tools. Retrieved from https://innovatemedtec.com/content/smartphones
Ghazisaeidi, M., Safdari, R., Goodini, A., Mirzaiee, M., Farzi, J. (2017). Digital games as an effective approach for cancer management: Opportunities and challenges. J Educ Health Promot., 6, 30.
Kalantarian, H., Motamed, B., Alshurafa, N., Sarrafzadeh, M. (2016). A wearable sensor system for medication adherence prediction. Artif Intell Med, 69, 43-52.
Kamyck, D. (2017). Digital Tool for Patient-Reported Cancer Symptoms Extends Survival. Retrieved from https://www.act.md/blog/online-tool-reporting-symptoms-extends-survival
Litjens, G., Sánchez, C.I., Timofeeva, N., Hermsen, M., Nagtegaal, I., Kovacs, I., Hulsbergen-van de Kaa, C., Bult, P., van Ginneken, B., van der Laak, J. (2016). Deep learning as a tool for increased accuracy and efficiency of histopathological diagnosis. Scientific Reports, 6, 26286.
Massachusetts Institute of Technology. (2018). AI model 'learns' from patient data to make cancer treatment less toxic. Retrieved from https://www.sciencedaily.com/releases/2018/08/180810120034.htm
Prochaska, J.J., Coughlin, S.S., Lyons, E.J. (2017). Social Media and Mobile Technology for Cancer Prevention and Treatment. Am Soc Clin Oncol Educ Book, 37, 128–137.
Tonarelli, L. (2017). Innovative ways digital health can help manage cancer, Retrieved from https://www.futurehealthindex.com/2017/02/22/innovative-ways-digital-health-can-help-manage-cancer/
Tran, C., Dicker, A.P., Jim, HSL. (2017).The Emerging Role of Mobile Health in Oncology. J Targ Ther Cancer, 2017 June. Retrieved from https://www.targetedonc.com/publications/targeted-therapies-cancer/2017/2017-june/the-emerging-role-of-mobile-health-in-oncology
Tucker, I. (2018). AI cancer detectors. Retrieved from https://www.theguardian.com/technology/2018/jun/10/artificial-intelligence-cancer-detectors-the-five
University of Texas at Austin, Texas Advanced Computing Center. (2018). An AI oncologist to help cancer patients worldwide. Retrieved from https://www.sciencedaily.com/releases/2018/05/180509104936.htm