At the end of each asynchronous (over-time, anytime) touchpoint, we always survey the participants to gather their feedback on the online portal user experience, tools, and interactivity. We also collect their suggestions of topics to explore in future touchpoints. Likewise, after synchronous (real-time) meetings, we send out evaluation forms to gather their feedback on the presentations, workshops, and agenda. After years of analyzing the responses, a few clear trends have emerged. In this Top-10 article, we share the most common comments received!
1.  Asynchronous touchpoints offer superior convenience and flexibility
This is the number one most common participant comment we receive! Even before the COVID-19 pandemic, participants appreciated being able to participate from the convenience of their home or office, during their lunch break or after putting the kids to bed. Not having to travel and take time away from their families and busy clinics is a key benefit from the participants' point-of-view.
It's very user friendly. I like having the option to complete when it's convenient for me and to be able to start a portion and come back and complete the rest later. I have not used this platform before, but I like it. I also enjoy being able to see some responses from my colleagues across the country. The time allocation was perfect.
2. Our platform is extremely user-friendly and easy to navigate
Time and time again, participants point out how user-friendly and easy to navigate our portal and tools are. Our portal is designed with the users in mind, and no training is needed for clients or participants!
I found it very user friendly, thanks for that as it can otherwise waste a lot of time.
3. Participants appreciate being able to share best practices with colleagues from across the country (or world)
Another key benefit of virtual advisory boards that many participants bring up is the ability to share best practices and learn from colleagues in other cities, provinces, states, or countries. With our automatic translation tool, expert interpretation services, and around-the-clock support, international knowledge exchange is easy! Further, multidisciplinary advisory boards are also great for learning alternative point-of-views that participants and clients might not otherwise consider.
Good idea to meet with different people around the country without all the travelling that would be otherwise needed
4. Everyone's input is valued equally
On several occasions, we've had participants highlight how virtual advisory boards allow them to get an equal say to all other advisors. Whether it's by using our asynchronous InSite Exchange™ discussion forum tool or through the chat feature during real-time web meetings, everyone is able to contribute equally.
Love the chat option! Hard to talk with 10+ other specialists otherwise.
5. Virtual touchpoints are surprisingly interactive!
This one comes as a surprise to a lot of participants! We won't lie, many do mention that they miss seeing their colleagues face-to-face (we do, too!). However, this is almost always followed by praise for the virtual platform and meeting format. Leveraging a mix of asynchronous and synchronous touchpoints over the course of a project results in even better interactivity as the participants get to know each other and get more comfortable sharing their honest thoughts.
Much easier and more interactive than I expected
6. They like the variety of online tools
Most virtual collaboration platforms have two, maybe three, different asynchronous collaboration tools. With Impetus Digital's extensive toolbox of life science-specific asynchronous virtual tools, we can engage participants in a myriad of ways; each touchpoint can be different! For this reason, those who have tried other platforms in the past often tell us they prefer ours.
I like this format, it is easy to use I like the variety of response options, scales, free text etc
7. Adding a pre-meeting asynchronous touchpoint helps prepare participants for live meetings
In cases where participants complete an asynchronous touchpoint before a real-time meeting, common feedback is that this is extremely helpful for reviewing data and preparing for the live meeting. Likewise, they usually appreciate getting the opportunity to debrief after the meeting. Here, the caveat is that the interval between the real-time meeting and over-time, anytime debrief session should be no more than a few weeks.
This prep work is great to get everyone on the same page and, I suspect, prepare the key elements that should be emphasized during the first virtual session.
8. Our web meetings are highly interactive, engaging, and productive
By now, everyone is used to (and many are sick of) web meetings. Still, participants often tell us that our web meetings are some of the most interactive and fun meetings they've ever attended. We attribute this to a combination of factors. Namely, great speakers, interesting topics, fun & engaging workshops, our behind-the-scenes strategic and digital support, and having well-prepared participants (see #7).
I find this method highly efficient and easy to participate in. I can also say that the participation rates can be much higher. The meeting we had ran efficiently. There was adequate discussion opportunities and engagement was great. For someone new to the treatment, it provided great perspectives from other more experienced centres/consultants and it was a great opportunity to learn.
9. Participants often suggest additional use cases for the online portal
Did you know that some of our now-popular use cases started out as suggestions by participants? Two notable examples include virtual journal clubs and Delphi technique co-creation – these were suggested by participants during asynchronous touchpoints leveraging our InSite Annotator™ tool and are now routinely conducted by multiple clients!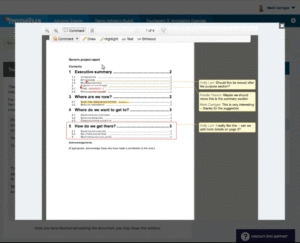 10. Companies should continue to offer virtual and hybrid meetings even after the pandemic
Recently, several participants have told us they'd like to continue with these virtual engagements even after it's safe to meet in person again. This is a great testimony to the benefits of virtual engagement discussed above. It also serves to show that the future is–beyond a doubt–hybrid.
Excellent experience. I think we should continue to use some of these modalities even when face to face meetings continue
---
About Impetus Digital
Impetus Digital helps life science organizations virtualize their in-person meetings and events through our best-in-class InSite Touchpoints™ and InSite Events™ offerings, delivered with white-glove service and 360° coverage and care. Leveraging our large portfolio of cutting-edge online collaboration tools, clients can seamlessly gather insights from, and collaborate with, internal and external stakeholders. To find out more about Impetus Digital, visit our website, follow us on LinkedIn or Twitter, or book a demo at meetwithimpetus.com