Press Release
Contact:
Cecilia Petrus, Communications Director / Green Team Leader
cpetrus@impetusdigital.com
www.impetusdigital.com
IMPETUS DIGITAL GREEN TEAM NAMED ONE OF THE 2022 PM360 ELITE 100
Toronto, ON, May 17, 2022 — PM360, the premier information resource for marketing decision makers in the pharmaceutical, biotech, diagnostics, and medical device sectors, has named the Impetus Digital Green Team as one of the 2022 PM360 ELITE 100 in the Environmental Champions category. Now in its eighth year, the PM360 ELITE (Exceptional • Leaders • Innovators • Transformers • Entrepreneurs) represent the most influential people in the healthcare industry today.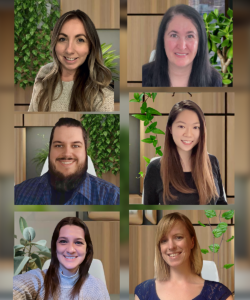 Founded in September 2020, the Impetus Digital internal environmental committee (fondly referred to as the "Impetus Green Team") is proving a force to be reckoned with. The small-but-mighty 6-person team leads the company's efforts towards becoming a more sustainable business, inspiring others on the way. What started off as a moonshot goal of becoming carbon-neutral by 2030 has turned into a detailed plan for how to get there as early as 2025. Along the way, they have formed close relationships with other leaders in the sustainability space, including the Green Business Bureau and Tree Canada.
"I am extremely proud of the passion and dedication that the Impetus Green Team has put towards bringing our organization to carbon neutrality by 2025," says Natalie Yeadon, Co-founder & CEO of Impetus Digital and a former PM360 Elite winner. "I especially love our Tree Planting Program which demarks our team's and clients' birthdays, anniversaries and other celebrations by planting trees. For a company whose sole focus is to virtualize pharmaceutical company's carbon footprint by reducing in person meetings and engagements, we do everything we can to bring awareness to the small things we can do to positively impact climate change."
"I'm so thankful for the support from our Co-founders and CEOs. They have given me and the Impetus Green Team complete freedom to pursue a variety of sustainability projects and they understand the importance and urgency of making the company carbon-neutral. It still blows my mind how much our team has been able to achieve in only 1.5 years,"  says Cecilia Petrus, one of the six Green Team members. "I'm hoping that by sharing our progress and writing about ways that organizations and individuals can fight the climate crisis, we can inspire others to start their own sustainability journey. I'm a big believer that no one can do everything, but if everyone did something, we can make a real difference; the Impetus Digital Green Team is proof of that."
The PM360 ELITE Awards were established in 2015 to recognize individuals and teams who have made a significant impact on the life sciences and healthcare industries throughout their careers. More than 500 submissions were received and nominees were evaluated and selected by the PM360 editorial staff based on their accomplishments; testimonials from their bosses, clients, and colleagues; and supporting evidence that reflects the impact of their efforts. A total of 100 winners were selected across 20 categories, including Creative Directors, Data Miners, Digital Crusaders, Disrupters, Drug Researchers and Developers, Entrepreneurs, Environmental Champions, Launch Experts, Leaders of the Future, Marketing Teams, Master Educators, Mentors, Patient Advocates, Philanthropic Heroes, PR Gurus, Sales MVPs, Strategists, Talent Acquisition Leaders, Tech-know Geeks, and Transformational Leaders.
"Our industry accomplished great things during the pandemic to ensure people could be protected against COVID, treated for it, and still access all of the other medications they need, but this disruption to our world also revealed ways in which our industry could be even better," says Anna Stashower, CEO and Publisher of PM360. "Many of this year's winners sprang into action to improve areas the pandemic exposed as needing changes, including addressing health equity, social determinants of health, clinical research, patient access and affordability, and much more. That's what makes them the most influential people our industry has to offer—their ability to push the industry forward to make healthcare better for all."
The winners were profiled in PM360's May 2022 issue. You can read their profiles online at https://www.pm360online.com/the-2022-pm360-elite-100.    
Additionally, the 2022 ELITE 100 will be celebrated at the annual ELITE Awards Event, which will be held at 230 FIFTH in New York City on July 13th starting at 7 PM EST. A special keynote address from Uber ELITE Winner Mikael Dolsten, MD, PhD, Chief Scientific Officer and President, Worldwide Research, Development, and Medical, Pfizer Inc., will kick-off the celebration. Tickets for the event can be purchased at https://www.pm360online.com/elitetickets.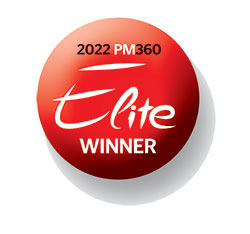 ---
About Impetus Digital
Impetus Digital helps life science organizations virtualize their in-person meetings and events through our best-in-class InSite Touchpoints™ and InSite Events™ offerings, delivered with white-glove service and 360° coverage and care. Leveraging our large portfolio of cutting-edge online collaboration tools, clients can seamlessly gather insights from, and collaborate with, internal and external stakeholders. To find out more about Impetus Digital, visit our website, follow us on LinkedIn or Twitter, or book a demo at meetwithimpetus.com
About PM360
PM360 is the premier, must-read magazine for marketing decision makers in the pharmaceutical, biotech, diagnostics, and medical device industries. Published monthly, PM360 is the only journal that focuses on delivering the full spectrum of practical information necessary for product managers and pharmaceutical marketing professionals to succeed in the complex and highly regulated healthcare environment.
The journal's targeted and insightful editorial focuses on issues that directly impact critical decision making, including: Planning and implementation of cutting-edge strategies, trends, the latest technological advances, branding/marketing, advertising/promotion, patient/professional education, sales, market research, PR, and leadership. Additionally, the "360" in the title signifies the span of this critical, how-to info with personal and career insights for an enjoyable and thought-provoking read.
By providing the full circle of enriching content, PM360 is truly an indispensable tool for busy and productive marketing professionals to stay at the top of their game.