The COVID-19 pandemic has transformed the manner in which Pharma representatives interact with HCPs. The restrictions on in-person meetings due to the pandemic have further reduced reps' access to HCPs. It is unlikely that reps will be going from one physician's office to another, as they did traditionally, in the near future. However, despite (or maybe because of) the challenges, this is the perfect moment to reimagine the role of Pharma reps in a post-pandemic future.
According to experts, the new protocols are likely to stay even after herd immunity is reached through vaccination, or effective treatments for COVID-19 become available. How this typical field job evolves in response to challenges posed by the pandemic needs to be continuously analyzed. Any changes need be sustainable and fit for the future, post-pandemic world.

HCPs find virtual rep interactions highly valuable!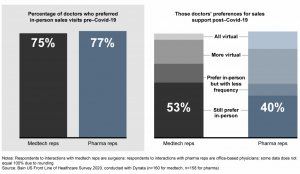 Many HCPs, who were once skeptical of virtual interactions with Pharma reps, now report that these exchanges are of high quality and value. Surveys show that, before the pandemic, 75% of surgeons preferred face-to-face rep visits, especially for technical support and device servicing. Among these, 47% now prefer virtual exchanges or less-frequent in-person visits!
Among physicians, nearly 60% of those surveyed in 2020 want more virtual interactions and fewer in-person meetings. Interestingly, these physicians previously preferred face-to-face interactions with reps. Moreover, 60% of surgeons, 43% of physicians, and almost 45% of US physicians believe that restrictions on rep access will likely persist even after a COVID-19 vaccine becomes widely available. They also believe this is especially true for educational training sessions and new product introductions.
Likewise, surveys also show that physicians are likely to rely more on virtual tools for marketing and training events in the aftermath of the pandemic. These virtual interactions are key opportunities for reps to build relationships with physicians and surgeons. However, some of these digital exchanges will demand the development of new skills among sales reps, MSLs, and other field forces. 
The future of virtual rep-HCP interactions
Overall, results from multiple surveys show that in, a post-COVID world, the commercial model for Pharma reps will involve a hybrid model. This model will feature both virtual support and in-person visits.
In the wake of the COVID-19 pandemic, there is a compelling need to re-examine the role of pharmaceutical sales representatives and MSLs. Over the decades, the Pharma rep's purpose has evolved from just an efficient means of HCP communication to a service for the HCPs to navigate the difficult Pharma landscape. Thus, offering the required training and the best possible tools for the reps becomes imperative. 
Pharma reps also need to continue to leverage virtual meetings and collaboration tools and make good use of smartphone functionalities that can enhance sales. There are several innovative ways that sales reps and MSLs can leverage online collaboration platforms beyond basic web meetings. Looking to other industries such as automotive that have reimagined their sales model may be beneficial as well. 
Sources:
https://www.bain.com/insights/medtech-and-pharma-sales-go-virtual/
https://pharmaphorum.com/views-and-analysis/how-COVID-19-has-increased-digital-healthcare-and-remote-reps/
https://www.fiercepharma.com/marketing/more-backhanded-upside-to-COVID-19-pharma-sales-rep-relationships-doctors-improve
---
About Impetus Digital
Impetus Digital helps life science organizations virtualize their in-person meetings and events through our best-in-class InSite Touchpoints™ and InSite Events™ offerings, delivered with white-glove service and 360° coverage and care. Leveraging our large portfolio of cutting-edge online collaboration tools, clients can seamlessly gather insights from, and collaborate with, internal and external stakeholders. To find out more about Impetus Digital, visit our website, follow us on LinkedIn or Twitter, or book a demo at meetwithimpetus.com