Well-designed internal training programs enable Medical Science Liaisons (MSLs), Sales Representatives, and other field staff to better explain, analyze, and discuss the current clinical landscape, available products/devices, new clinical and real-world data, as well as patient lifestyle management strategies. It also improves their overall knowledge of the therapeutic area and improves their ability to clearly and effectively communicate with healthcare providers (HCPs). In turn, this can enable HCPs to make better choices for their patients, theoretically resulting in better treatment outcomes.
In today's virtual world, online and hybrid training programs and events are becoming commonplace. However, the quality and outcomes vary between programs; that is: if they are even being evaluated. In this top-10 article, we share 10 innovative ways that life science teams can leverage the Impetus InSite Platform® for internal MSL/Sales training programs and events.
1. Online needs assessment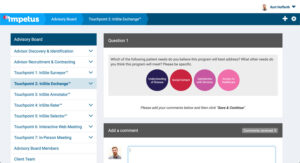 Before designing a new training program, gather feedback from the trainees on their experiences with past programs, what their needs and wants are in terms of training and education, and their preferred course formats. This can be done in the form of online surveys, ranking and rating exercises, as well as open discussion forums or anonymized short-answer questions.
This approach creates a sense of ownership and serves to motivate trainees when it becomes time for them to undergo the actual training.
2. Virtual working group program co-creation
Taking into account the results of the online needs assessment, we suggest conducting a small virtual working group with a mix of junior and senior staff to develop the training. This is a highly effective approach that helps ensure that the program will support the trainees in developing their competency, subject matter knowledge, and confidence, all while taking into account their baseline knowledge.
Here, a mix of asynchronous (over-time, anytime) and synchronous (real-time) meetings is helpful. Over-time discussion forums, annotation exercises, and mapping activities can be used for reviewing the needs assessment results, providing and refining initial program ideas and suggestions, and for "backwards curriculum mapping." Adding a real-time meeting or two is useful for reaching a consensus on the proposed course content and structure.
3. Real-time, gamified training events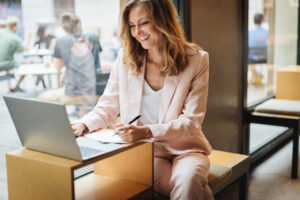 In addition to planning and developing the training, the Impetus InSite Platform® can be used for hosting a multitude of programs. One example includes large company-wide virtual or hybrid training events, featuring mainstage sessions with expert internal and external KOL guest speakers, breakout workshops with real-time annotations, exhibition halls, and gamified experiences. In our experience, adding gamification is impactful for optimizing engagement, active participation, memory retention, and overall participant satisfaction.
Establishing logical connections between the learning activities and the content presented will also help. To this end, virtual quizzes, polls, challenges, and scavenger hunts can easily be added during larger events to break up the live sessions. However, care should be taken not to use too many different tools and activities in the same event.
4. Virtual case studies & role-playing
As part of real-time training events or as a stand-alone asynchronous or synchronous program, virtual case study discussions and role-playing exercises are a nice counterbalance to the typical data-heavy training that MSLs or other field staff go through. One way to do this is through interactive breakout workshops and whiteboarding, where the trainees are asked to role-play as HCPs to practice objection-handling. Another way is to structure training around patient avatars or real-world case studies. Using asynchronous discussion forum, annotation, and survey tools, trainees can be asked to comment on text- or video-based case studies and provide their science-based recommendations, pretending to be talking to the patient's HCP. Here, getting real patients involved is impactful, although not always possible due to compliance concerns and other practicalities.
5. Patient journey mapping workshops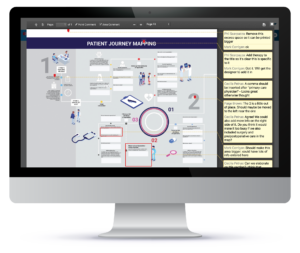 Virtual patient journey mapping is not only an activity for MSLs to do with HCPs, but also an approach that could be used for training purposes. Trainees can be presented with one of several patient descriptions or journey maps and asked to make science-based treatment decisions based on the latest data. As they move along the journey map, more details can be revealed, which may impact their treatment decisions.
This type of activity can be set up in a variety of ways, either synchronously using breakout workshops or asynchronously using step-wise questions and interactive maps to build more case details. This allows for scenario planning and the development of critical thinking skills. It also emphasizes the fact that the optimal treatment depends on individual patient characteristics and circumstances.
6. Individualized, bite-sized training modules
Self-paced, "bite-sized" virtual training modules, hosted on the same private client portal, are a great supplement to live events and regular asynchronous activities. Online quizzes can be added to test comprehension, keep learners on their toes, and help with memory retention. These tests should serve to reiterate the learning objectives and enhance the trainees' confidence in the materials.
Having a variety of micro-modules to choose from allows a personalized learning experience and takes into account the fact that not everyone starts at the same level. It can also help cater to what we call "skimmers, swimmers, and deep-divers" by leveraging a variety of online tools and different ways to present data.
7. Virtual journal clubs
Ongoing virtual journal clubs are effective for staying up-to-date and thoroughly dissecting new data, including from comparator products. These can be centered around traditional manuscripts, abstracts, posters, or pre-prints. However, to mix things up, consider also discussing other materials such as videos, webinars, podcasts, or visual abstracts. Here, the Impetus InSite Platform®'s annotation, discussion, selection, and rating tools are especially useful.
8. Mentorship programs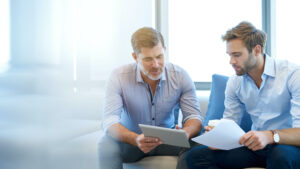 In addition to the above, one-on-one or small-group virtual mentorship programs are impactful for supporting junior staff and trainees. The virtual nature of these means that being in the same geographical area no longer matters, and time zone differences become much less important. Having a combination of real-time and over-time tools on the same portal means that these programs can be personalized based on the preferences of the involved parties, while standardized enough that it is easy to measure their success based on pre-determined metrics.
9. Online Community Boards
Impetus Digital's Online Community Boards provide a safe, compliant space for best practice-sharing, discussing emerging data, and asking questions. The nice thing about these client-managed Community Boards is that they are "always-on" and can be accessed throughout the year whenever a question arises. We recommend using them in parallel with other training initiatives as a value add-on for trainees.
10. On-demand resource centers
Finally, along with the Online Community Boards, offering your staff an on-demand virtual resource center for accessing training materials and chapterized webinar recording at any time, ensures a comprehensive training strategy. We don't recommend using resource centers in isolation, but rather as a supplement to other initiatives. When you have all of your training programs and materials in one place and people can tailor their training to their own learning style and baseline knowledge, you are set for success.
Other considerations
Key benefits of leveraging the Impetus InSite Platform® for internal MSL/Sales training programs and events include its intuitive design and that it allows for varied formats, catering to every learning style. This approach also takes into account personal preferences and individual learning objectives, ensuring that the training is relevant. To optimize engagement, reminder or digest emails can be scheduled.
The online format also makes it easier to collect success metrics and measure the impact of the training; this is essential for optimizing future renditions.
---
About Impetus Digital
Impetus Digital helps life science organizations virtualize their in-person meetings and events through our best-in-class InSite Touchpoints™ and InSite Events™ offerings, delivered with white-glove service and 360° coverage and care. Leveraging our large portfolio of cutting-edge online collaboration tools, clients can seamlessly gather insights from, and collaborate with, internal and external stakeholders. To find out more about Impetus Digital, visit our website, follow us on LinkedIn or Twitter, or book a demo at meetwithimpetus.com