A version of this article was previously published on PharmaPhorum.
By now, we're all (hopefully) getting accustomed to the concept of "patient-centricity." However, another commonly overlooked but equally important group of healthcare stakeholders is caregivers. These are people–mostly women–who dedicate themselves to supporting the patient throughout their disease or treatment journey. They also have strong purchase power; in fact, more than half of patients reportedly rely on caregivers to make healthcare decisions for them. 
As previously noted in the Wall Street Journal, in the US, caregivers provide approximately $500 billion worth of free care each year. In turn, employee caregiver responsibilities are resulting in employers losing tens of billions annually. 
It is also noteworthy that the ratio of caregivers to patients is decreasing; the Baby Boomer generation is aging out of the workforce and themselves becoming in need of caregiving, adding additional pressure and stress to already thin-stretched caregivers and healthcare workers. As a consequence, a previous Embracing Carers™ survey found that, globally, almost half of all unpaid caregivers experience feelings of depression, while 57% feel like they need medical care/support for mental health issues. Similarly, more than half feel that their physical health has been compromised due to their caregiving responsibilities.
Together, this is signaling a clear need for industry and government support for this important group.
Bringing caregivers to the forefront
Education
To support patients and their caregivers, there are numerous things life science companies can do. First and foremost, caregivers often do not have formal medical training. Pharma teams can support them by providing education on the disease and different treatment options, training on administering medications or injections, and other resources to help them navigate the different stages of the patient journey.
Considering the time commitment caregivers are already dedicating to their loved ones, any educational offerings must be flexible and convenient, in addition to being relevant and practical, in order to be valuable. Anything that will require traveling or inconvenient and inflexible meeting times should immediately be reconsidered.
Caregiver advisory boards and focus groups
To gain a better understanding of what caregivers need from the industry to help support them and their dependents, what better way than asking them directly? We are seeing more and more companies conducting advisory boards with patients, but few are engaging caregivers to the same degree. Just like for education, virtual–especially asynchronous (over-time, anytime)–touchpoints are useful here, saving caregivers precious time and allowing them to contribute on their own schedule, between work and caregiver responsibilities.
Virtual advisory board meetings must come with readily available technical support for non-tech-savvy users and leverage private, secure, and compliant platforms with the option to anonymize participants. Ideally, user-friendly features such as speech-to-text tools and translation/interpretation services should be available to encourage participation from a diverse group of caregivers, not limited to one region or language.
Co-creation of clinical trial protocols and other resources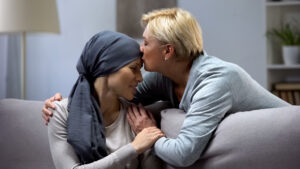 For many conditions, including rare or pediatric diseases, involving caregivers in clinical trial protocol development can help give them a sense of purpose and empower them on their caregiver journey. Likewise, asking for their input on educational patient/caregiver-facing materials and programs allows the incorporation of their unique perspectives. As above, both of these activities can–and should–be done virtually at the convenience of the caregiver.
Facilitate knowledge-sharing and peer support
Disease-specific caregiver communities are a great way to provide support through not only shared experiences but also knowledge-sharing. Pharma companies can help by providing funds and resources for setting up these peer communities, whether as local groups or larger online communities, in a hands-off, transparent, and compliant manner.
Mental health support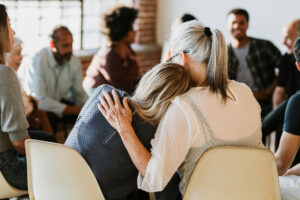 Support groups and peer-to-peer networking are two important tools to support the mental health and overall well-being of patients and caregivers. Another way to support this important aspect of the caregiver and patient journey includes facilitating access to mental health experts experienced in dealing with the disease area in question or in dealing with caregivers in general. Information and resources (both printed and digital) aimed at destigmatizing depression, anxiety, burnout, stress, and other common mental health issues among caregivers may also be valuable. Taking it one step further, consider conducting online needs assessments and then co-creating these resources together with patient/caregiver advisors and healthcare professionals through parallel advisory boards or digital content councils.
Benefits of centering caregivers
Aside from being a solid business strategy for Pharma, centering caregivers adds an additional layer to the concept of patient-centricity. This is a group that, undoubtedly, has numerous unmet needs. Some of these could be relatively straightforward in addressing through proper education and training. However, even for more complex needs that may require collaboration between multiple stakeholders, Pharma has little to lose in offering caregivers a seat at the table and providing additional support and resources.
Ultimately, taking the time to support caregivers could improve their mental health and reduce burnout, thereby improving the care that they give and impacting patient outcomes or quality of life. 
Immediate next steps
As a first step, consider what makes the most sense for your therapeutic area and patient/caregiver population; just like for patients, caregiver needs and wants are not one-size-fits-all. What is useful for a caregiver of a cancer patient does not necessarily translate to the rare disease space. In fact, needs likely vary even among and within different types of cancers, as one example.
At the same time, Pharma teams should carefully consider the metrics to gather and track in order to assess the impact of these caregiver engagement initiatives. Having hard stats demonstrating their impact will help convince leadership of the importance of providing ongoing support.
Once you have developed a rough idea of the kind of program(s) you want to execute, it is time to start thinking about the optimal format (online vs. hybrid vs. local face-to-face events, asynchronous vs. synchronous, written vs. digital, web-based vs. apps, etc.), frequency of interactions, and other strategic aspects. In the spirit of true caregiver/patient-centricity, no matter which approach you choose, ensure that the relevant stakeholders are consulted throughout every step of the process.
---
About Impetus Digital
Impetus Digital partners with life science organizations to virtualize their in-person meetings and events through our best-in-class InSite Touchpoints™ and InSite Events™ offerings, delivered with white-glove service and 360° coverage and care. Leveraging our large portfolio of cutting-edge online collaboration tools, clients can seamlessly gather insights from, and collaborate with, internal and external stakeholders. To find out more about Impetus Digital, visit our website, follow us on LinkedIn, Twitter, or Facebook, or book a demo at meetwithimpetus.com