Last week, we hosted Impetus Digital's second annual Earth Week celebration! Much like in 2021, during Earth Week 2022, we shared articles, tips, recipes, and resources to inspire each other to make greener choices in our daily lives. Then, when the Canadian "spring" prohibited many of us from spending much time outside, cleaning up trash, or planting our gardens, we got creative instead. New to this year, participants were able to choose from a long list of challenges. We also hosted daily trivia questions and treated all team members to a company-exclusive discount at Etee, one of our favorite online zero-waste shops!
Take a look below to see some of our many projects.
Taking care of our avian (and squirrel) friends
A few of us took the opportunity to build and put up birdhouses.
#NoBeefWeek
Several team members took the #NoBeefWeek challenge and/or cooked multiple vegan and vegetarian dishes, including veggie versions of traditionally meat-based meals like pozole! While we're on the topic, see if you can guess our fifth trivia question for the week: How much methane gas can a single cow release each day through burps and farts? (see the answer here).
Refuse, reduce, reuse, repair, recycle, rot
As we discussed in a recent top-10 article, the "6 Rs" are a great framework for sustainable living. The Impetus Team took these principles to heart this Earth Week, reducing food waste (through juicing, composting, and making vegetable stock) & electricity (incl. by replacing video game night with board game night!), reusing/upcycling plastic containers for cuttings or seedlings, using old cardboard boxes as toys, and recycling difficult-to-recycle items like face masks.
 
Planting trees and other plants
Leading by example, our Co-founder & CEO Natalie Yeadon got out and not only planted her own trees but also wrote a letter to a local association about her concerns about the dying Ash trees in her area. Others planted trees more indirectly, using Ecosia as their search engine. We also planted vegetables and herbs, including microgreens!

Calculating our carbon footprints
During Earth Week 2022, we had multiple team members calculate their carbon footprint and share the results with the group, along with actions they're planning to take to reduce it. Plans include everything from riding e-bikes instead of cars, installing solar panels, and insulating windows and doors to reduce heating bills in winter.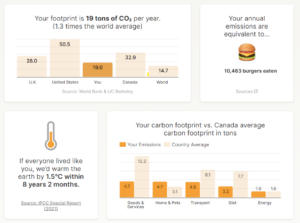 Cleaning up trash
When the snow and rain let up for a few hours, the Impetus team seized the opportunity and took to their local streets and ponds to clean up bags and bags of trash and recycling!

Enjoying Mother Nature
Finally, we enjoyed all the beautiful scenery that Canada has to offer and were reminded of why we need to fight the climate crisis.
Want to join in the fun next year? Check out our Careers page for open roles or to submit your CV for future consideration.
---
About Impetus Digital
Impetus Digital helps life science organizations virtualize their in-person meetings and events through our best-in-class InSite Touchpoints™ and InSite Events™ offerings, delivered with white-glove service and 360° coverage and care. Leveraging our large portfolio of cutting-edge online collaboration tools, clients can seamlessly gather insights from, and collaborate with, internal and external stakeholders. To find out more about Impetus Digital, visit our website, follow us on LinkedIn or Twitter, or book a demo at meetwithimpetus.com