Although many people are starting to go back to their offices, at least for part of the week, many others are looking at permanent 'Work From Home' (WFH) set-ups. At Impetus Digital, we have over 14 years of experience running a 100% virtual company (check out our Careers page to see current openings). In anticipation of Earth Week (April 18–22, 2022), we here share our top-10 tips for "greening" your WFH space!
1. Unplug your devices when not in use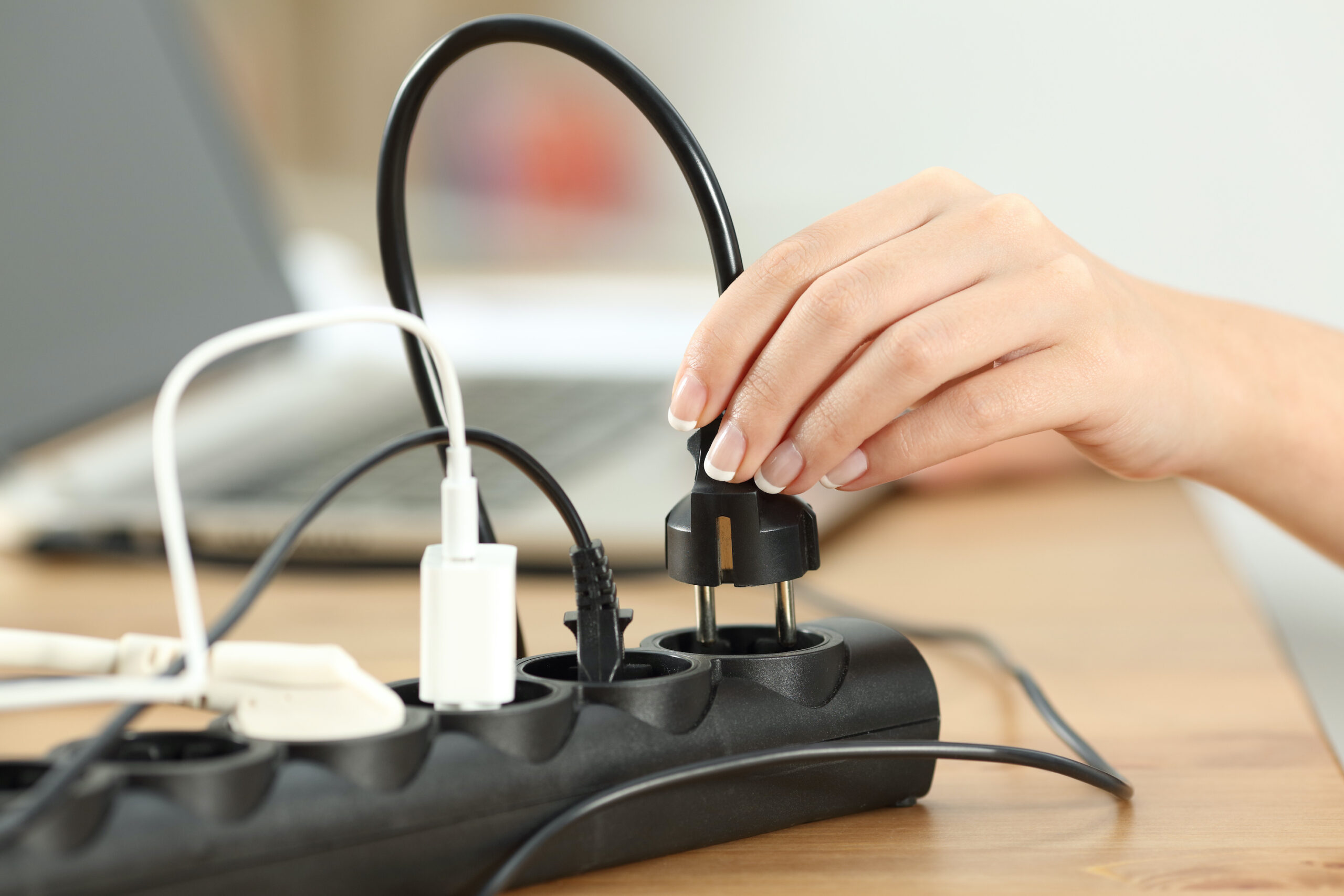 Estimates for average "phantom energy loss" vary, but most sources cite somewhere between 5–25% of a household's energy use. Leaving your devices plugged in even when not in use therefore also results in a substantial increase in your energy bills. Once it has become a habit, unplugging all devices that are not in use won't take more than a minute or two of your time, and this is a habit that can easily be incorporated into your workflow. The planet–and your wallet–will thank you!
2. Adjust your thermostat
We all want our homes to be warm and cozy in winter, and nice and cool in summer! However, lowering the temperature by just a degree or two in winter can make a big difference for your energy consumption. Think of alternative ways of keeping warm: try a cozy sweater, blanket, or a spot heater. Make sure your windows are sealed so that the heat doesn't escape. In summer, instead of blasting the AC, try a fan or open your windows to let the breeze in. If AC is needed during heatwaves, try only running it until your office has cooled down sufficiently (instead of all day) and/or setting the target temperature 1 or 2 degrees higher.
3. Surround yourself with (peat-free) indoor plants
Believe it or not, this one is actually a bit controversial! While on the surface, indoor plants seem like they would be good for the environment, their environmental footprint can be net negative if you are not careful in selecting your plants. First off, many come in hard-to-recycle plastic pots and some are shipped long distances. Further, many use peat–decomposed plant matter that can take thousands of years to form–as part of the soil. All that said, indoor plants can have many other benefits aside from purifying the air and absorbing carbon dioxide: studies suggest that they not only improve wellness but also productivity.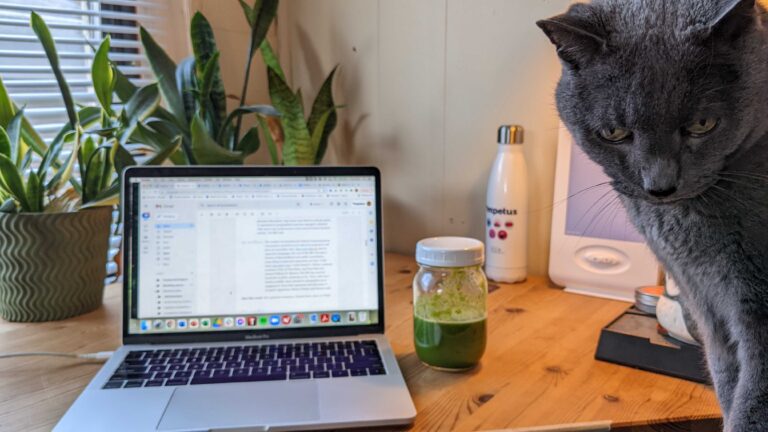 4. Take advantage of natural light
If possible, set up your home office so that you are close to a window to maximize the amount of natural light and reduce your dependency on (ceiling) lights. Use a small desk lamp to supplement the sunlight; these typically have a relatively small environmental footprint compared to ceiling lights.
5. Refuse, reduce, reuse, repair, recycle, rot (+ go paperless)

I'm sure by now, we've all heard about "reduce, reuse, recycle." This can be extended from 3 to 6 "Rs": refuse, reduce, reuse, repair, recycle, and rot. This hierarchy applies to all aspects of our lives, including our home offices. If you can't refuse, reduce, reuse, or repair something, make sure that you opt for recyclable (or compostable) options to minimize waste.
When it comes to paper, in today's world, there is really no reason to use paper in your office. Documents and materials can be safely housed, signed, reviewed, co-created, and accessed by designated team members or external stakeholders within secure online portals. For those instances where you have to print something, make sure to buy post-consumer recycled paper and print double-sided.
Fun fact: we could save around 75,000 trees by recycling the paper used on the daily run of the New York Times alone!
6. Buy second-hand equipment and furniture
If you are setting up a new office or upgrading your current one, buying second-hand equipment and furniture goes a long way! It not only keeps "old" stuff out of the landfill but it also saves you money. In addition, buying second-hand means that you are not contributing as much to consumerism, which is linked to over-consumption and negative environmental impacts. There is no shortage of physical and digital second-hand marketplaces, and local "Buy Nothing" groups are becoming more and more popular. Take advantage of these and remember that one person's trash is someone else's treasure!
7. Make your own coffee/tea (or bring a reusable mug!)
Most of us go through at least a couple of cups of coffee/tea/your drink of choice each day. One major perk of working from home is that the temptation to grab a coffee on-the-go is removed. This is not only a huge relief for your wallet but also means that you're able to keep hundreds of single-use cups out of the landfill (as long as you stay away from those nasty plastic coffee pods). If you do want to treat yourself to a barista-made coffee, bring your own reusable mug and ask for oat milk or another non-dairy alternative.
Fun fact: cows can produce 250–500 liters of methane per day, contributing almost 2% of the global warming that may occur in the next 50 to 100 years!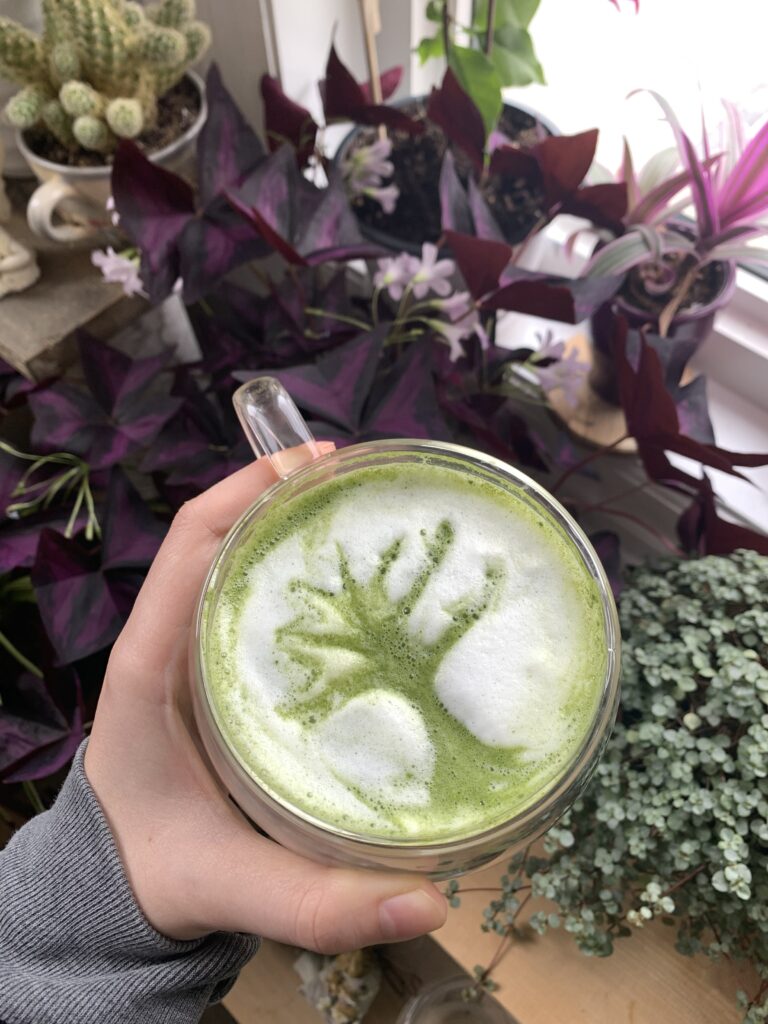 8. Unsubscribe from irrelevant newsletters, download music, and only stream videos over wifi
There are many "small" things we can do to make our home offices and lives more sustainable. If you are inundated with digital newsletters that do not provide any real value or that end up straight in your computer's trash as soon as they are received, consider unsubscribing. If you stream music during work, consider upgrading to a premium service that lets you download the files to stream locally and offline. If you watch videos on YouTube or Netflix, only do so while on wifi, and consider lowering the video quality. It might seem like small, insignificant actions, but even tiny actions add up.
9. Opt for virtual meetings and asynchronous collaboration

Even though it is starting to feel like "the new normal' is finally here and people are getting back to maskless in-person encounters, continuing to rely mainly on virtual meetings instead of driving to an office or meeting venue is by far the most sustainable option. If you are the person in charge of organizing meetings, giving people the option to attend virtually is recommended not just for the environmental aspect but simply because people have different preferences. This applies not only to internal team meetings but also to meetings and larger events with external stakeholders. To avoid Zoom fatigue, leverage a secure asynchronous collaboration platform in between meetings.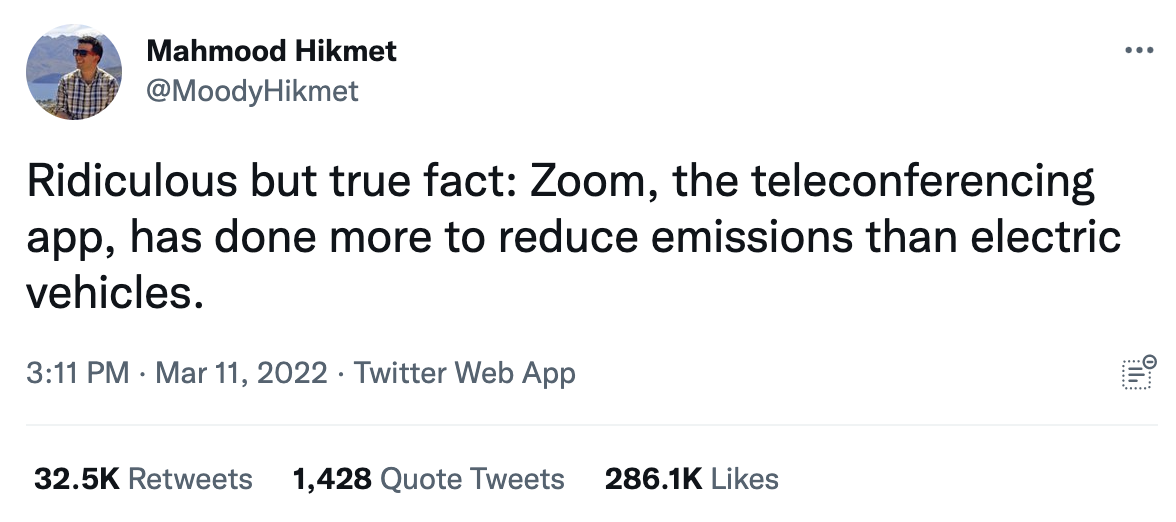 10. Educate your team, family, and friends on sustainability issues
After optimizing your own WFH setup, take the time to share what you've learned with your team, family, and friends. At Impetus Digital, we're big believers in the importance of education around sustainability. We have an internal knowledge library, celebrate Earth Week each year, and try to educate our followers as we're learning ourselves. Below are some of our recent articles, infographics, and case studies on the topic. We are committed to transparency and will keep our followers updated on our progress towards carbon-neutrality by 2030.
1. PDF: Impetus Digital Environmental Sustainability Statement
2. Infographic: Environmental impact of in-person vs. virtual meetings
3. Article: Earth Week at Impetus Digital
4. Article: Impetus is making a commitment to minimize our environmental footprint
5. Article: Why Pharma needs to care about global warming
6. Article: Reducing the carbon footprint of events
7. Article: Best of GBB in 2020: Green Businesses Leading the Sustainable Business Movement
8. Article: Impetus Digital: Reducing the Global Carbon Footprint Through Enhanced Virtual Events
9. Article: Top-10 ways that Pharma teams can fight the climate crisis
10. Announcement: Impetus Digital launches their official tree planting program
11. Article: Digital technologies: Pharma's answer to achieving net-zero emissions?
12. Article: Virtual meeting technologies for reducing emissions and waste in the healthcare industry
13. Case Study: Reducing Travel-Related Emissions and Costs Through Virtual Events
---
About Impetus Digital
Impetus Digital helps life science organizations virtualize their in-person meetings and events through our best-in-class InSite Touchpoints™ and InSite Events™ offerings, delivered with white-glove service and 360° coverage and care. Leveraging our large portfolio of cutting-edge online collaboration tools, clients can seamlessly gather insights from, and collaborate with, internal and external stakeholders. To find out more about Impetus Digital, visit our website, follow us on LinkedIn, Twitter, or Facebook, or book a demo at meetwithimpetus.com