It is the time of year when everyone predicts what the next 12 months will hold. At Impetus Digital, we get a first-hand look into evolving industry trends daily from our clients and their advisors, putting us in a unique position to make these predictions. For the sake of this article, we have narrowed the list down and now focus on 8 key themes:
Hybrid meetings and events becoming the new normal
Medical Affairs evolving and embracing digital transformation
Out-of-the-box congress engagement & insight-gathering
The growing role of artificial intelligence (AI) and the importance of the "human aspect" throughout Pharma operations
Environmental, Social & Governance (ESG) in the life sciences industry
Patient-centricity taking center stage
Product launches going virtual
The use of virtual and digital tools earlier in the product life cycle
Let's dive in!
1. Hybrid meetings will become the gold standard (but may not look the way you imagine)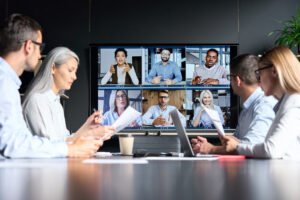 Here is a bold prediction: the era of full-day 100% in-person meetings is over.
After more than two years of pandemic restrictions, many Pharma leaders are itching to meet with their key opinion leaders (KOLs) in person again, believing that's what most KOLs want. However, the days of only offering in-person meetings, with no option to attend virtually, are through. In our recent survey, 84.6% of respondents stated that they prefer virtual/hybrid meetings over in-person. Convenience, flexibility, and the minimal environmental impact are top reasons why many participants prefer to attend virtually.
Further, based on over a decade of feedback from thousands of healthcare provider (HCP) advisors, across all therapeutic areas, we are consistently hearing that asynchronous engagements are the #1 preferred way of engaging with Big Pharma. 
In 2023, "hybrid" will mean two different things to different people: a) an in-person meeting with a live virtual component (i.e., a live virtual meeting with some people attending in-person) or b) a live meeting accompanied by asynchronous virtual touchpoints before, after, and/or in parallel. These asynchronous touchpoints will serve to prepare the participants for the live meeting, optimize insight-gathering, and ensure those insights are followed up on. They will come in a variety of innovative formats, from full-service virtual advisory boards and digital content councils to self-serve Online HCP Community Boards. 
Read more: Top 10 things to consider when designing a hybrid meeting
2. Medical Affairs will continue evolving
A recent McKinsey & Company report titled A vision for Medical Affairs in 2025 provides fantastic insights into the evolution of Medical Affairs. A lot of their predictions match what we are seeing and hearing from our Medical Affairs clients and partners. Namely, Medical Affairs professionals are emerging as the "owners" of scientific knowledge and data within their organization, evolving from playing mainly a support function in the past.
As noted in the McKinsey report, best-in-class medical engagement is also evolving. In the near future, we will see a broad expansion of medical engagement across providers, patients, and other stakeholders. Touchpoints will be increasingly digital and designed to provide tailored information focused on improving outcomes.
In 2023, we will see Medical Affairs engage both patients and payers more than in previous years. Understanding the patient and provider journeys will become key and will help identify unmet needs.
3. Say goodbye to the days of uninspired and complex congress engagement
The recent shift to hybrid conferences has greatly facilitated information exchanges. Now, attendees can watch sessions they missed on-demand and visit all posters and booths on their own time. However, something that many Pharma teams seem to struggle with when it comes to congresses is gathering relevant insights from all of these sessions. A lot of it comes down to difficulties with planning initiatives across departments, coordinating information-gathering, and transforming data into actionable insights.
In 2023, more life science companies will streamline their congress engagement initiatives by leveraging virtual collaboration tools and programs such as Impetus Digital's award-winning Ambassador programs, daily eHuddles, virtual advisory boards, online HCP or MSL Community Boards, and more. As a result, they will see higher-quality insights and be able to develop a clear plan for how to leverage these.
4. AI use will continue to grow, but companies will prioritize the "human aspect"
Pharma and healthcare companies will continue to slowly warm up to the idea of using AI and machine learning for a range of applications. This will not be the year, however, that AI will take the place of human experts. If anything, it could be the year that people realize that it never will; it's merely a supplement, not a replacement. This rings true for both healthcare use cases such as diagnosis and monitoring, as well as for Pharma applications like insight-gathering and brand strategy. In particular, AI-enabled sentiment analysis was a hot topic in 2022, but this will not replace manual analyses by medical writers and other human experts.
The importance of exceptional human touch (or White-Glove™ service as we call it) will also become more evident when it comes to things like recruitment of advisors, reporting, and strategic recommendations.
5. Companies will spend more resources on ESG initiatives or risk falling behind competitors
Despite some criticism, this year will cement ESG as a must-have for companies across all sectors, with the pharmaceutical industry being under particular scrutiny. Companies will need to identify at least a couple of areas to focus on and will need to be transparent about their plans and progress.
Sustainability

According to findings from a recent Deloitte survey on ESG disclosure and preparedness, sustainability became a top business priority in 2022. In 2023, this trend is set to continue due to rapid policy and regulatory developments, rising commercial pressures, and growing investor demands. Pharma companies will be looking not only at their own operations and facilities but also at their supply chain and vendors. Some companies have already set ambitious goals for reducing their carbon emissions, water usage, or packaging and waste, but many others are playing catch-up.
Low-hanging fruit that will help reduce emissions include reconsidering how internal events and external meetings are run, allowing employees to work from home when possible, investing in renewable energy, reducing plastic and paper waste, and partnering with trusted sustainability experts.
Read more: Top-10 ways that Pharma teams can fight the climate crisis
Diversity, Equity & Inclusion
When it comes to the "S" in ESG, a lot of attention will remain on Diversity, Equity, and Inclusion (DEI) initiatives, both internally and when it comes to clinical trials and subsequent product launches. We already saw a lot of focus on diversity in 2022. In 2023, virtual collaboration tools will be increasingly used to gather diverse insights. As a result of the increase in virtual/hybrid meetings, more diverse participants will be able to participate in Pharma-sponsored events and advisory boards.
Read more: Virtual tools for promoting diversity in Pharma and clinical trials
6. Patient-centricity will become the rule rather than the exception
We have been hearing about "patient-centricity" and its benefits for years, but we predict that 2023 will be the year more Pharma teams take concrete action to achieve this. We are already seeing more clients engage patients in parallel with their HCP advisory boards. In 2022, innovative virtual programs like patient story groups also became more common, signaling a shift in how brand teams engage with their end customers. Improved patient-centricity goes hand-in-hand with DEI initiatives. Starting at the clinical trial level, engaging patient advocates (virtually) to help with recruitment and protocol development can help improve the diversity of participants and make the study results more representative of the real-world patient population.
Read more: Importance of patient engagement and empowerment for Pharma
7. Virtual product launches will become the new normal
Catalyzed by the pandemic, virtual product launches have already been shown to be highly effective. As with meetings and events, we predict that most aspects of product launches will be hybrid in 2023, with a lot of emphasis on finding the best virtual tools to facilitate this. Companies are realizing the benefits of virtual collaboration for cross-functional team alignment, internal strategy, internal and external training and education, and more. We had a lot of interest in our virtual product launch offerings last year, telling us that more and more companies are realizing that there is a better alternative to traditional launches.
Read more: Virtual Product Launch Planning Playbook
8. Virtual collaboration tools will be used throughout all stages of the product life cycle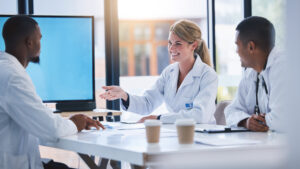 Finally, we predict an increased uptake of virtual collaboration tools earlier in the product life cycle. While our biggest clients still comprise Medical Affairs, Marketing/Commercial, Market Access, and Medical Education teams, we have seen an uptick in use among Clinical and R&D teams recently. Clients are starting to realize the value of early insight-gathering, with some starting to engage HCPs, investigators, and patient advocates as early as the preclinical phase. As these projects are wrapping up, we're excited to share more details in the months to come!
Do you agree with these predictions? Was there anything we should have included that didn't make the list? What are your predictions for the year ahead?
---
About Impetus Digital
Impetus Digital partners with life science organizations to virtualize their in-person meetings and events through our best-in-class InSite Touchpoints™ and InSite Events™ offerings, delivered with white-glove service and 360° coverage and care. Leveraging our large portfolio of cutting-edge online collaboration tools, clients can seamlessly gather insights from, and collaborate with, internal and external stakeholders. To find out more about Impetus Digital, visit our website, follow us on LinkedIn, Twitter, or Facebook, or book a demo at meetwithimpetus.com